By Lu Yanan from People's Daily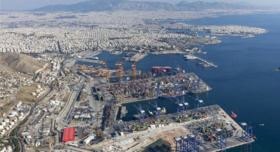 China sees growing ties with Belt and Road countries in trade and economy over the past five years, as by June 2018, merchandise trade between China and countries along the route has exceeded $5 trillion, a senior Chinese official told a press conference on Monday.

In the past five years, China's total investment in economic and trade cooperation zones in these countries amounted to $28.9 billion, creating $2.01 billion of tax revenues and providing 244,000 local jobs, said Ning Jizhe, chief of the National Bureau of Statistics.

China-proposed core concepts such as co-construction of the Belt and Road and the principle of achieving shared growth through discussion and collaboration have been incorporated into the outcome documents of the UN and other important international mechanisms, the official noted.

China has signed 118 cooperation agreements with 103 countries and international organizations on developing the Belt and Road, added Ning, also deputy head of the National Development and Reform Commission at a press conference held by the State Council Information Office.

The Belt and Road Forum for International Cooperation held in Beijing last year yielded 279 concrete actionable results, with 265, or 95 percent of them having been completed or normalized as regular practices and the rest 14 being pushed ahead, he added.

A large number of Belt and Road cooperation projects have achieved substantial progress, such as the construction of the China-Pakistan Economic Corridor, China-Laos railway, China-Thailand railway and the Budapest-Belgrade railway connecting the capital cities of Hungary and Serbia.

In addition, the Jakarta-Bandung high-speed railway is under construction and the Gwadar Port of Pakistan has possessed full operational capability.

By Aug. 26, 2018, China-Europe freight trains have made 10,000 trips, reaching 43 cities of 15 European countries with a load rate of 85 percent.

China has become the largest trading partner of 25 countries along the Belt and Road, Vice Minister of Commerce Qian Keming noted, adding that its total trade with the en-route countries has surpassed $5 trillion over the past five years, with an annual average growth of 1.1 percent against the falling world trade.

In the past five years, China has directly invested more than $70 billion in Belt and Road countries, an average annual growth of 7.2 percent. The value of newly-signed contracted engineering projects in the countries exceeded $500 billion, according to Qian.

In addition, China has been easing market access for foreign investment and creating better business environment to attract investment from Belt and Road countries, he noted.
Steady progress has been made by China and en-route countries in co-building economic and trade zones. Over the past five years, Chinese enterprises have set up 82 overseas economic and trade cooperation zones in countries along the Belt and Road, attracting 3,995 enterprises.

The country also signed or upgraded five free trade agreements with 13 Belt and Road countries. Together, they are accelerating the construction of a high standard free trade network which is based on the surrounding countries, influences the Belt and Road countries and faces the world.

Ning introduced that China has actively carried out cooperation with Belt and Road countries on education, science and technology and culture and launched special cooperation plans in education, science and technology, finance, energy, agriculture, inspection and quarantine, and interconnectivity of standards.

Under the Silk Road Scholarship program, China has set up schools overseas, cultivating technical and managerial talents for Belt and Road countries.

Statistics indicate that the number of international students in China from the Belt and Road countries exceeded 300,000 in 2017, and the figure for Chinese students to the en-route countries stood at more than 60,000.

In 2020, more than 85 million two-way trips are predicted to be made by tourists from China and the en-route countries, generating about $110 billion in tourism revenue.