By Du Yifei from People's Daily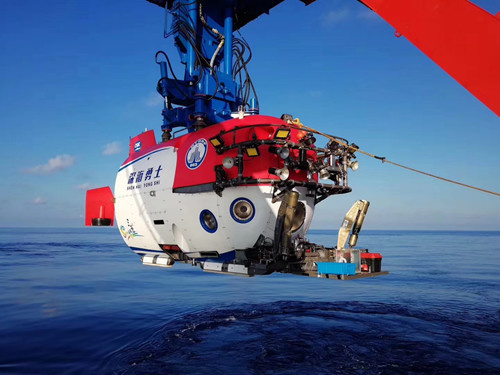 China's self-developed manned submersible Shenhai Yongshi is having sea testing. (Photo from the official website of the Chinese Academy of Sciences)
China's self-developed 4,500-meter-level manned submersible named Shenhai Yongshi, or Deepsea W arrior, is scheduled for test expeditions into the deep sea in 2018 for scientific researches.

After making breakthroughs in a series of key technologies for overall design and optimization, design and manufacturing of a thick titanium alloy manned cabin, buoyancy materials for deep submergence and a low-noise deep-sea thruster, the submersible was finally delivered after 8 years of development.

Though the Chinese submersible Jiaolong is able to descend to a depth of 7,000 meters, China still needs to work on the 4,500-meter-level one as it's a way to improve the country's capability of independent innovation.

Statistically, 95 percent of the manned submersible Shenhai Yongshi is made in China, including all key devices such as buoyance materials, lithium batteries and mechanical arms. It is a showcase of China's growing capability of independent innovation in deep-sea equipment manufacturing,.

The Deepsea Warrior is among the most-advanced manned submersibles of the world due to its competitive performance. It successfully completed the deep-sea testing in South China Sea last October.

The Chinese manned submersible is expected to complete 50 missions in the South China Sea and southwestern Indian Ocean this year, six of which will be conducted in the South China Sea for archaeological purposes.

The world has been amazed by the breakthroughs made by Chinese submersibles one after another, with the submersible Jiaolong descending to a depth of 7,062 meters, the unmanned submersible Haidou reaching 10,888 meters, and the deep-sea underwater glider Haiyi diving to 6,329 meters.

Besides, China is planning to make a manned submersible that is able to reach a depth of over 10,000 meters by 2020.

The continuous upgrading of China's deep-sea equipment will help drive the country's deep-sea exploration and research, and contribute more to the mankind's exploration, development and protection of the blue space with rich resources.