By Xie Yahong from People's Daily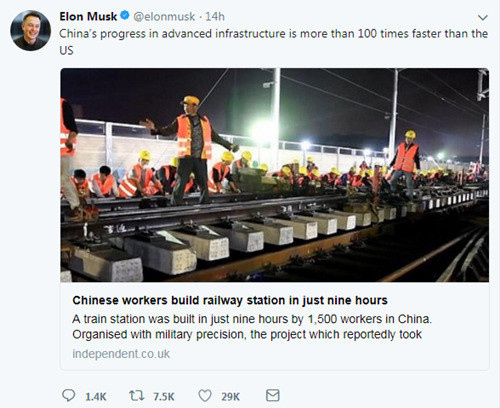 Screenshot of tweet by SpaceX and Tesla founder Elon Musk (File photo)
SpaceX and Tesla founder Elon Musk last week praised the high efficiency of Chinese infrastructure construction, dubbing the nation 100 times faster than the US.

"China's progress in advanced infrastructure is more than 100 times faster than the US," Musk wrote on his personal Twitter account, attaching a news report depicting how some 1,500 Chinese workers managed to upgrade a railway station by installing a new railway junction in less than nine hours.

The miracle created by Chinese builders was also reported by British media including Daily Mail and the Independent.
As of last Saturday, the tweet was forwarded more than 7,000 times and liked by 30,000 readers more or less.
In his following tweets, the American entrepreneur blamed US failings in infrastructure.

After retweeting a San Francisco Chronicle editorial and a New York Times article about the unsatisfactory construction plans of the Bay Area Rapid Transit and Long Island Rail Road, he commented "we are even worse than that in California and New York."

"Want to clarify that as individuals, the people responsible for the high costs & long timelines are almost all well-meaning, but the system of incentives is messed up", Musk pointed out. "Higher safety & environmental requirements & labor costs explain only a small part of the difference. True root cause imo is an exponential growth in bureaucracy & a self-serving private sector consultant industry earning a% on project cost, incenting them to maximize cost," he wrote. His comments were echoed by many followers in the U.S.

Atlanta's Hartsfield-Jackson international airport was hit by a power outage last year, leaving thousands of passengers stranded and planes grounded.

Earlier this year a water main break at John F. Kennedy International Airport in New York also resulted in delays and cancellation of flights caused by the cold wave.

The mess underlined the urgent need for the US to upgrade its sagging infrastructure.

China's infrastructure, by contrast, has seen rapid development in recent years. By the end of 2016, the total length of expressways and high-speed railways in China exceeded 130,000 kilometers and 22,000 kilometers respectively. The numbers, which already top the world, are still on the rise.

China has contracted infrastructure projects for other countries as facilities connectivity has been set as a guideline for international cooperation under the Belt and Road initiative.