By Li Yingyan from People's Daily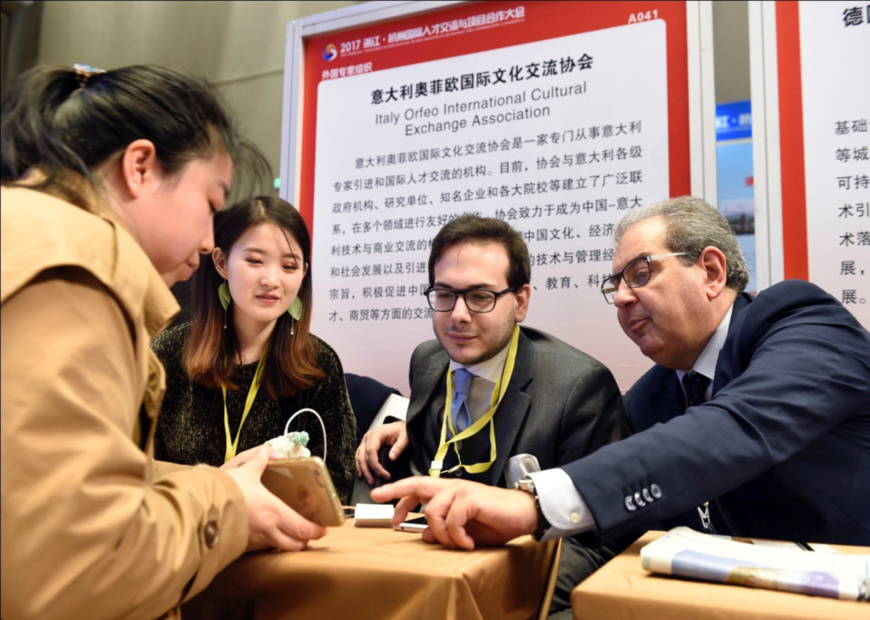 An international conference on talent exchange and program cooperation was held in Hangzhou, east China's Zhejiang province on Nov. 8, 2017. The conference attracted foreign experts and organizations from 27 countries and regions with 1,500 innovation projects. (Photo from People's Daily Online)
An increasing number of second-tier cities in China are joining a battle to win more talents by introducing a plenty of attractive policies.

Nanjing, capital city of east China's Jiangsu province, announced on March 6 that it will offer a subsidy of 1,000 yuan ($158.12) for job seekers from other places, as a plan to attract more university graduates for the city's development.

In order to realize the goal of building itself into an innovative city with global prominence, the city has rolled out a series of measures, including lowering threshold on household registration and providing house rental and entrepreneurship allowances.

Nanjing is only one of those craving for talents. Since the beginning of 2017, Hangzhou, Ningbo, Wuhan, Zhengzhou, Chengdu and some other second-tier cities have rolled out package of policies .

The second-tier cities' invitation to the young talents comes out when bigger cities like Beijing and Shanghai are imposing strict restrictions on housing purchases and household registration.

The new trend will not only help lessen the burden for first-tier cities, such as high population density and over-concentration of talents, but also help the second-tier cities develop and prosper by receiving more talents.

China saw the largest influx of overseas returnees in the past few decades. In 2017, the country embraced 600,000 overseas returnees, much more than the total number of students going abroad that year.

"Development is the top priority, talents are the primary resources, and innovation is the primary driving force," Chinese President Xi Jinping stressed at a panel discussion with deputies from Guangdong province at the first session of the 13th National People's Congress in Beijing, capital of China on March 7.