By Zhang Jinruo, People's Daily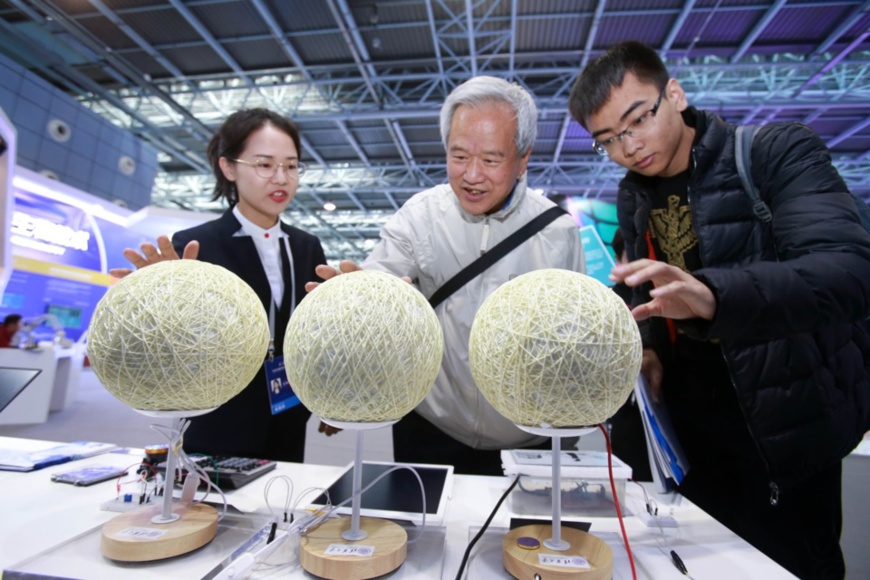 A staff member (L1) introduces vapor power generation at the Zhongguancun International Frontier Science and Technology Achievements Exhibition held at the Zhongguancun Exhibition Center, Zhongguancun Science Park, Beijing. Photo by Chen Xiaogen/People's Daily Online
A service platform for technology achievement transformation and transaction was recently launched in Zhongguancun, a tech hub in Chinese capital Beijing.

More than 3,000 outstanding scientific and research findings and 200 technical demands from over 20 countries were unveiled on the platform - Zhongguancun Technology Achievement Transformation and Technology Transaction. Both enterprises and individuals can search for, recommend, and trade scientific results and projects on the platform.

For a long time, there had always been a gap of translating technological findings in the labs into products that the market is willing to accept, because of which a large number of technological findings have been "frozen".

The commercialization of technological findings is a key process that turns technology into production force, as well as a foundation to realize innovative and high-quality development. By building such an internet-based "trading market", Zhongguancun has paved a new path of tech commercialization and transfer.

The platform offers a variety of functions for users who aim at publishing and finding projects, finding needs, and transaction. Enterprises and individuals can register an account and enjoy all the functions.

A professional and market-oriented pricing mechanism for technology achievement transformation has been established by the platform based on the mature experiences of China Technology Exchange, which enables technological findings to be listed and traded online through agreement-based assignment and equity investment.

Besides, the platform also has a professional operation team that verifies the authenticity and validity of supplies and demands. The team advertises and promotes technological findings, as well as matches demands and supplies.

The platform integrates the resources of technology trade on the global supply and production chains, aiming to build a "fourth-party" platform of international technology achievement transformation and transaction for the world's top-notch projects.

As an international platform, it offers services in both Chinese and English. Besides, transactions can be settled in multiple currencies. So far, nearly 100 famous institutions of technological achievement transformation from around 20 countries have established cooperation with the platform.

Zhai Lixin, head of the Zhongguancun Science Park Administrative Committee, told the People's Daily that the platform gathers innovation resources from home and abroad, establishes a services alliance of technology transfer, integrates online and offline exhibitions, carries out multi-channel promotion, and operates business on a regular basis. It aims to solve a series of problems such as the incapability of professional institutions, the asymmetric information of technological projects, as well as the deficiency incomprehensive, convenient and professional service capabilities and the lack of relevant platforms. It will play a positive role in promoting international tech transfer and transformation, and helps enterprises expand market, Zhai said.

Zhongguancun will further enhance its efforts to gather resources and improve its functions, and guide enterprises, institutions, universities and third-party technology transformation organizations from home and abroad to fully exploit the platform to carry out various tech transfer and transformation activities, in a bid to make this platform the largest, the most influential and the most active one of its kind in China.