By Du Yifei, Wang Junling from People's Daily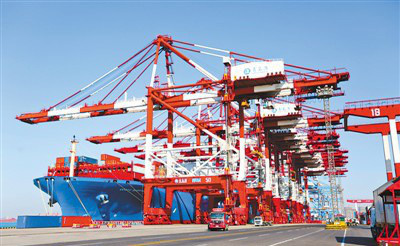 A containership of China COSCO Shipping Group is loading cargos at a port of Qingdao, eastern China's Shandong province on Jan. 12, 2018. (Photo by CFP)
China's foreign trade embraced a larger-than-expected increase in the first two months of 2018, with a total value of 4.52 trillion yuan ($714 billion) for goods imports and exports, up 16.7 percent compared to the same period last year.
Exports stood at 2.44 trillion yuan($386 billion), up 18 percent, while imports came in at 2.08 trillion yuan, for a rise of 15.2 percent, according to the data released by China Customs on Thursday, adding that trade surplus of the country was 362.2 billion yuan($57 billion), expanding by 37.2 percent.
The figures were better than the previous market prediction for a possible fall in the February statistics.
The EU, the US, the ASEAN and Japan were all key engines to China's impressive exports and imports in January and February. The country's total trade with Belt and Road nations stood at 1.26 trillion yuan ($199 billion), 5.2 percentage points higher than the general growth of its foreign trade.
Analysts believe that China's better-than-expected performance came from the recovery of global economy, as well as its growing economic vitality and continuous efforts to open market wider.
The foreign trade structure has been optimized as well. The private sector contributed 1.77 trillion yuan ($280 billion) to the total imports and exports in the first two months, up 26.3 percent. It accounted for 39.3 percent of the total value, edging up 3 percentage points compared with the same period last year.
The rise can be attributed to the priority the country gives to real economy, experts said, explaining that the government has created a better trade environment for the business, while the latter also focuses more on innovation to upgrade industries.

Chinese enterprises are exporting more and more high-end equipment and commodities rather than merely simple processed products, which in return spur the overall competence of its trade, the analysts pointed out.

The simplified customs clearance procedures also contributed a lot to the growth of China's foreign trade.

Southwestern municipality of Chongqing has launched proactive customs cooperation with Belt and Road countries by promoting its reform of pilot free trade zone, and eliminating repetitive custom inspections, said Liu Weiwei, a member of the 13th National Committee of Chinese People's Political Consultative Conference (CPPCC).

The municipality has also encouraged development of new business formats such as cross-border e-commerce, market purchasing, foreign trade services, and intermediary trade, added Liu, also director general of Chongqing Customs, furthering that correspondent supervision systems have been established as well.

Chinese Minister of Commerce Zhong Shan said in previous interview that China's trade value in 2017 rose 14.2 percent from a year ago, registering the highest growth in six years. China has become the world's largest trader, according to him.

In 2018, the country will put into practice a new development philosophy, seek high-quality growth, and build new images of Chinese foreign trade, in a bid to enhance its strength in trade, he promised.