By Wan Yu, People's Daily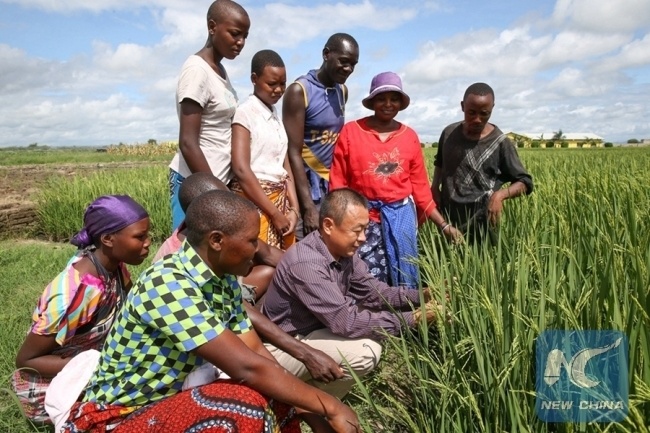 A demonstration farm run by Chinese agricultural experts to Tanzania. [Photo: Xinhua]
Poverty elimination is a dream shared by all people. China has been striving through arduous, long-term efforts toward the goal of making sure the Chinese people have a good life.

According to the international poverty line set by the World Bank, which is currently $1.9 per person per day, China has lifted over 800 million people out of poverty since its reform and opening-up in the late 1970s, who account for over 70 percent of the global total over the same period.

"This is certainly the greatest leap to overcome poverty in history. China's efforts alone have ensured that the world's Millennium Development Goal on poverty reduction will be met," said Robert B. Zoellick, former president of the World Bank.

Getting rid of poverty has always been a prominent problem plaguing global development and governance.

The UN Charter, the Universal Declaration of Human Rights, and the International Covenant on Economic, Social and Cultural Rights all consider eradicating poverty and achieving development as basic human rights. Besides, "no poverty" is placed first among the 17 Sustainable Development Goals of the UN 2030 Agenda for Sustainable Development.

The World Bank estimated that over 700 million people in the world still live in absolute poverty and that the COVID-19 outbreaks have put a new strain on international poverty reduction. To realize mankind's common dream of eradicating poverty, the world particularly needs sincere wishes, correct guidance, iron wills and practical actions.

China has earnestly carried out international cooperation on poverty reduction, fulfilled its international responsibilities for poverty alleviation, and tried its best to provide assistance for other developing countries in fighting against poverty.

The country has not only joined hands with the UN and other international organizations to help developing countries ease poverty, but pushed ahead with cooperation projects under the frameworks of the East Asian Cooperation Initiative on Poverty Reduction and the China-Africa poverty reduction and people's welfare cooperation plan.

Chinese experts in poverty alleviation have helped villagers living near the Mekong River bid farewell to the old days when they had to drink rainwater and river water, use muddy roads and live in thatched cottages, and enabled them to enjoy clean tap water, broad cement roads, and nice new houses.

In African countries including Madagascar, Nigeria and Mozambique, Chinese hybrid rice helps local farmers realize their dream of increasing grain production and income.

Chinese experts in Juncao, a hybrid grass as well as an important multi-functional agricultural resource, have promoted Juncao technology in over 100 countries and regions over the past 20 years or so, endeavoring to solve problems concerning mankind's survival and development with technological means.

China has continuously promoted the synergy between the joint construction of the Belt and Road and the UN 2030 Agenda for Sustainable Development. A report from the World Bank shows that the Belt and Road construction is expected to lift 7.6 million people out of absolute poverty and 32 million out of moderate poverty.

The country has also helped developing countries improve their capacity building through multilateral and bilateral channels to drive international cooperation in poverty reduction.

China has made impressive achievements in achieving the goal of eradicating absolute poverty, which can be a great source of inspiration for the rest of the world, noted James P. Lynch, Director General of the East Asia Department of Asian Development Bank.

Over the past more than seven decades, China has assisted 166 countries and international organizations and sent over 600,000 people on aid missions. The country has provided medical assistance for 69 countries, and helped more than 120 developing countries achieve the UN Millennium Development Goals.

In addition, the country has initiated the establishment of the Asian Infrastructure Investment Bank, through which it has fueled the development of countries involved, proposed and actively put into practice ten cooperation plans and eight major initiatives to promote China-Africa cooperation, and organized international poverty reduction training together with relevant countries and regional organizations.

China has always sincerely supported developing countries, especially least developed countries, in poverty eradication and will continue to promote global poverty reduction cause and contribute to international cooperation on poverty reduction and alleviation.