By Liu Tianliang, People's Daily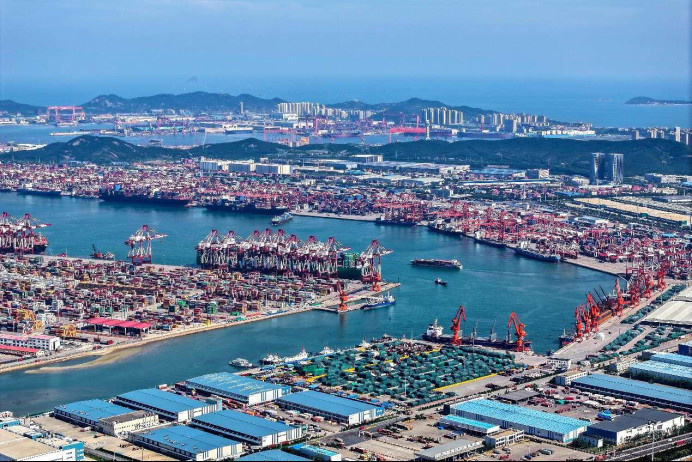 Photo shows a container terminal in the Qingdao Area of China (Shandong) Pilot Free Trade Zone. (Photo by Han Jiajun/People's Daily Online)
China's door of opening up will only open wider, and will never be closed. This is a promise China has made to the world.

Chinese President Xi Jinping announced at the opening ceremony of the third Belt and Road Forum for International Cooperation that China will remove all restrictions on foreign investment access in the manufacturing sector.

As a manufacturing powerhouse, China is continuously deepening its opening up in this field, demonstrating its firm attitude and determination to promote high-quality development through high-level opening up.

Actively attracting and utilizing foreign investment has been an important experience for China's rapid development since the reform and opening up. China has persistently pursued development with its door open, attracting a large number of high-quality foreign enterprises to invest and develop in the country.

According to data released by the Ministry of Commerce, from January to September this year, 37,814 new foreign-invested enterprises were established nationwide, a year-on-year increase of 32.4 percent. Foreign direct investment (FDI) in the Chinese mainland in actual use totaled 919.97 billion yuan ($126.37 billion), which, although slightly lower compared to the high base during the same period last year, still remained at a historically high level.

The strong momentum of foreign investment in China has created new market opportunities and helped boost confidence and improve expectations.

As China has continued to open up more broadly and deeply, it has integrated into the global industrial and supply chain system, forging closer ties with the world economy.

At the same time, China has been continuously improving its ability to allocate resources globally, enhancing the synergistic effects between the domestic and international markets and resources.
In recent years, China has been optimizing the evaluation of foreign investment promotion, placing more emphasis on the actual contribution of investment to economic and social development, which has attracted more high-quality foreign investment.

In the first three quarters, the actual use of foreign investment in high-tech manufacturing increased by 12.8 percent. Some developed economies have expanded their investment in China, with actual investments from France, the UK, and Canada growing by 121.7 percent, 116.9 percent, and 109.2 percent, respectively.

In order to enhance its appeal to high-quality foreign investment, China has focused on institutional opening up, accelerating the development of new systems for a higher-level open economy.
In recent years, China has taken proactive measures to open up further, such as shortening its negative list for foreign investment access, establishing comprehensive demonstration zones for expanding opening up in the service industry, and connecting pilot free trade zones and free trade ports with high-standard international economic and trade rules.

China's proactive efforts of opening up to promote reform and development have attracted more and more investors who understand China's economic growth logic and have the foresight to make long-term investments in China, creating a favorable environment for the long-term stable development of the Chinese economy.

Currently, the global economy is undergoing a weak recovery, facing intensified inflation, insufficient demand, and a continuous decline in global cross-border direct investment.

Faced with increasingly fierce international competition in attracting foreign investment, China will take a more proactive approach to aligning with high-standard international economic and trade rules. It will effectively address prominent issues concerning foreign enterprises, refine and optimize supporting measures for the business environment, and enhance the attractiveness of the Chinese investment market with better quality services, more valuable innovations, and higher-quality talents.

China's high-quality development can only be achieved through greater openness. With China's enormous market, complete industrial system, abundant innovation application scenarios, and ample talent resources, its long-term positive trend of attracting foreign investment remains unchanged.

China will continuously expand the breadth and depth of its opening up, effectively promote sustained economic recovery, and provide new opportunities for the world through its new development.