By Liu Shiyao, Dou Hao, People's Daily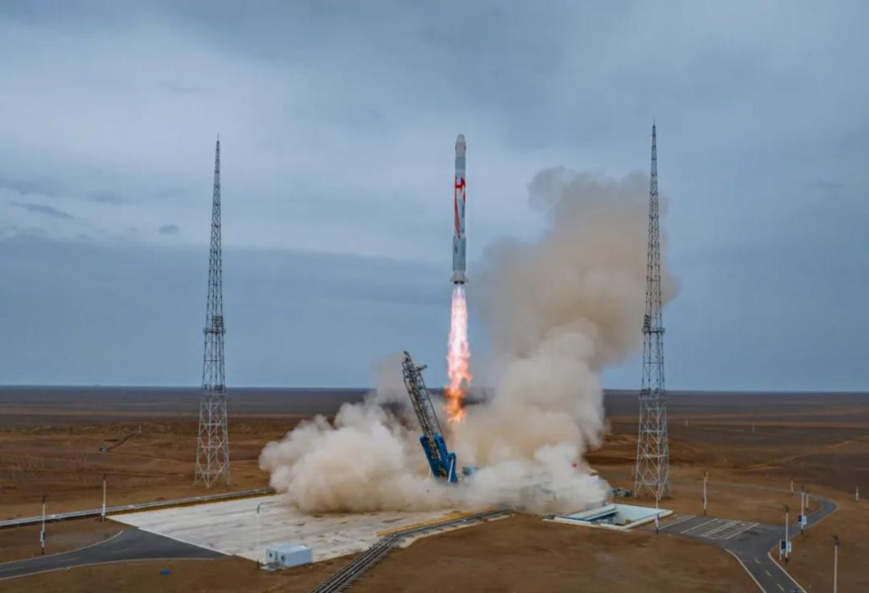 The Zhuque-2 carrier rocket blasts off from the Jiuquan Satellite Launch Center in northwest China, July 12, 2023. (Photo from LandSpace)
China on July 12 successfully launched a new carrier rocket into space from the Jiuquan Satellite Launch Center in northwest China.

The Zhuque-2 carrier rocket is the world's first rocket powered by liquid oxygen-methane fuel and successfully entered its planned orbit, as well as the first liquid-propellant rocket entering its planned orbit independently developed by a Chinese private rocket company.

The successful launch marked that China's first high-thrust liquid oxygen-methane engine has completed a flight mission, and a breakthrough in the new low-cost, liquid propellant application for China's carrier rockets.

The Zhuque-2 is a two-stage rocket with a body diameter of 3.35 meters and a height of 49.5 meters. Its takeoff weight is about 219 tons, and its takeoff thrust is about 268 tons.

The stage 1 of the rocket is powered by four Tianque-12 engines each with a vacuum thrust of 80 tons, and the stage 2 by a single TQ-12 engine and four TQ-11 vernier engines.

Carrier rocket, as a launch vehicle, is the foundation of all space activities, and the engine is the "heart" of a rocket, while the propellant decides the key performance of a rocket.
Rocket propellants include liquid fuels and solid fuels. In particular, liquid fuels include liquid oxygen (LOX)/kerosene, LOX/liquid hydrogen, liquid oxygen-methane, etc. Each of the fuels has its advantages and disadvantages. For instance, the LOX/kerosene fuel features low cost and high specific impulse, but it's prone to carbon deposition and coking.

Liquid oxygen-methane is a mixture of liquid oxygen and methane. It is efficient, green, cheap and easily extracted. It comes with less carbon deposition, which reduces the workload in engine cleaning and thus lowers the maintenance cost of reusable rockets. That's why it is considered one of the ideal materials for making rocket propellants.

According to Zhang Changwu, CEO of LandSpace, the company that developed the Zhuque-2, liquid oxygen and methane are widely applied in both the civil and industrial sectors, and they are very accessible and cheap.

The cost of this propellant, which is expected to become an industrial product in massive supply once the technology of liquid oxygen-methane engine matures, will be more controllable, Zhang added.

Aerospace is a technologically challenging industry with high risks. The world today has entered a rapid development phase of reusable liquid oxygen-methane rockets. Multiple such rockets are underway outside China. In the first half of this year alone, two other liquid oxygen-methane rockets were launched, but they both failed unfortunately.

The development of the Zhuque-2 carrier rocket was no plain sailing. At the end of the last year, it failed in its first mission. LandSpace established an investigation group to look into the reasons causing the failure and adopted multiple measures for improvement.

It was not easy for the company to achieve the success today after it experienced the failure in the first mission of the Zhuque-2. The development team did a huge amount of work, including launch tests, ground vibration tests, hydraulic tests and final assembly detection.

"What we achieved this time was not only a successful launch of a rocket, but also the capability of a private aerospace company in developing, testing, manufacturing and launching rockets. We'll keep going toward our goal of massive and commercial rocket development and manufacturing, and prove our value with innovation," Zhang said.

As the first Chinese rocket powered by liquid oxygen-methane fuel, the Zhuque-2 is expected to lower the cost of commercial rocket launching and bring a revolution to the market of commercial rocket launching.

Zhang said that the company will keep upgrading the Zhuque series to improve its performance and offer the market with low-cost, high-performance and high-thrust rockets.

The private aerospace sector has experienced rapid development over the past 10 years and become an indispensible force in China's aerospace industry. It covers rocket launching, satellite and ground facility development, satellite operation, satellite application and other areas.

According to statistics, China is home to more than 400 private aerospace companies that operate over 350 in-orbit satellites. The private aerospace sector has released considerable economic potential, with a market size of over 1 trillion yuan ($139.59 billion).

Experts noted that China is seeing a significant increase in the frequency and number of space launches, as well as a huge demand for commercial launches. Private aerospace enterprises, featuring strong innovation capability, flexible commercial operation and clear market orientations, are injecting new vitality into China's aerospace industry.