By Han Xiaoming, Liu Junguo from People's Daily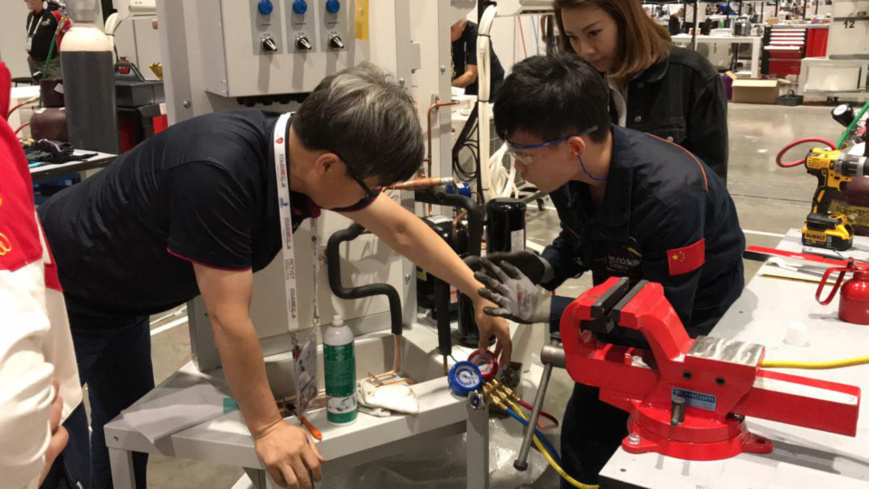 Chinese representatives are competing at the 44th WorldSkills in Abu Dhabi, UAE. (Photo by Han Xiaoming from People's Daily)
Chinese delegation topped the medal table at the WorldSkill 2017 that concluded on Thursday in Abu Dhabi, the United Arab Emirates (UAE) by scoring 15 gold medals, 7 silvers, 8 bronzes, and 12 medallions.

It was the fourth time that China participated in the competition after it joined the WorldSkills International (WSI) in October 2010.

The Chinese delegation, consisted of 52 competitors, participated in 47 games in 6 categories including transportation and logistics, structure and building technology, information and communications technology, as well as creative art and fashion.

The biennial WorldSkills Competition, billed as the "Olympics of Skills", represents the highest level in vocational skills.

The WorldSkills General Assembly announced in Abu Dhabi on Oct. 11 that Chinese city of Shanghai was selected to host the 46th event in 2021.

Chinese President Xi Jinping sent a video message in support for China's bid before the vote. Extending a staunch support to Shanghai's bid on behalf of the Chinese authority and people, he assured that the city will be ready to host a highly innovative and influential event.

Xi said the competition will promote international exchanges and cooperation in vocational skills, drive the Chinese people - especially nearly 200 million young people - to take up new skills and provide an opportunity for China to contribute to global skills development.