By Zhao Xiaoxia from People's Daily Overseas Edition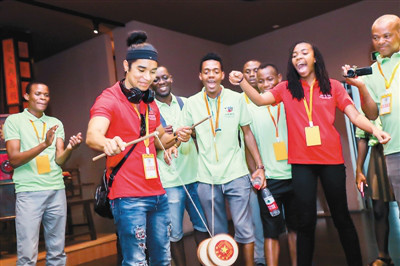 A student plays diabolo, a toy which is balanced on a string attached to two sticks, at Capital Museum in Beijing. (Photo by Li Fubin )
A China-Africa youth summer camp kicked off on Monday under the theme of "China-Africa Friendship, Youthful Aspiration". Organized by Confucius Institute Headquarters (Hanban), the event was attended by 300 students from 23 African countries and 10 Chinese universities.

By studying Chinese culture and experiencing the charm of China, they established a bridge of friendship between the youths of China and Africa during the four-day camp.

A Nigerian student with a Chinese name of Ming Xu who came to China for the first time, said that China is helping his country improve infrastructure and has changed the image of Nigerian cities, citing the example of the popular Abuja-Kaduna rail line, the first standard-gauge railway of Nigeria.

Statistics indicated that a total of 16,738 locals were employed during construction of the railway, and nearly 150,000 jobs were indirectly created for local community.

It also largely accelerated the local development of cement, rebar, and asphalt industries. After the railway was put into operation, Chinese enterprises offered skill training and technical support, and nurtured a batch of professionals of railway management and operation.

"I was told by the young people that China's assistance, without any attached strings, has brought tangible benefits," said Zhang Xian, the Chinese Director of the Confucius Institute at the University of Rwanda when speaking of local people's friendship with China.

"They have a strong attachment toward China, and it is China's rapid development that is attracting them," he added.

"The young people of Rwanda not only watch Chinese movies, but also know China's modern innovations," Zhang told People's Daily, adding that the over 20 Rwandan students joining this camp were excited when trying the shared bikes in China.

Most of the students came to China for the first time, and the experience in China widened their horizons.

Starting to shoot since landing in Beijing, Ming recorded what he saw in China with a camera. He said that his experience in China was out of expectation despite the certain knowledge he had about the country before this trip.

"China is developing at a rapid pace, but it is also a country of long history. I want to know more about its people and culture, and I hope to speak fluent Chinese," Ming noted, adding that he would take more time to learn Chinese after going back home. "If I have children, I would let them learn Chinese, too," he said.

A Kenyan student who gave himself a Chinese name Chen Andong told People's Daily that he hopes to get a scholarship and study in China. He said he had gained much through the lectures and food he experienced in this summer camp.

Another student Anthony expressed his love for China in a special way by making blood donation when visiting a site in Beijing. "I hope I can offer a little help through this way," he said.

Most of the African students on the summer camp are from Confucius Institutes. It was learning Chinese that made them love China and get closer to China.

"Learning Chinese offers me a good prospect," said a student whose Chinese name is Li Kesi. The Confucius Institute at University of Lagos, Nigeria at which she is currently studying is not only a place for learning Chinese, but also a window for her to understand China.

"It's the experience of learning Chinese that offered me the chance to study at Beijing Institute of Technology," she told People's Daily.

The Nigerian student decided to extend her stay in China because of the charm of Chinese culture. She chose to keep studying in the country after her half-year Chinese curriculum was concluded last September.

"I aim far than just learning Chinese, and I want to know more about the Chinese culture. Only by this can I say that I know this country," she explained.

This September, Li will go to the Capital Normal University and major in teaching Chinese to speakers of other languages. In addition, she also signed herself for a Chinese zither class. "I hope to learn more about the profound Chinese culture though I only have limited time here," she noted.

According to Zhang, the Confucius Institute at the University of Rwanda now has about 5,000 registered students. The institute also established 13 teaching branches across the country in universities, middle schools, Chinese-funded enterprises and organizations.

"We were invited by some of the branches before their establishment, since the ability to speak Chinese is an advantage in the local job hunting market," Zhang said.

Yu Tianqi, Deputy Secretary of the Party Committee of Hanban, remarked that the Confucius Institute has made positive contribution to the promotion of China-Africa education exchanges and cooperation.

She hopes that the students of this summer camp can have a deeper understanding of China and bring their own cultures to China, thus further enhancing mutual understanding and communication with their enthusiasm, and becoming envoys for China-Africa friendship.