By Hou Lulu from People's Daily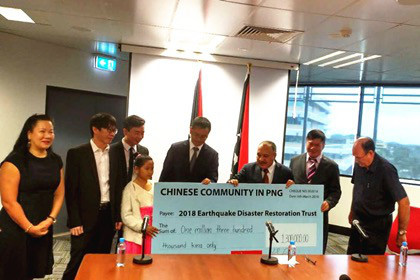 PNG Prime Minister Peter O'Neill receives donations from Chinese community and companies at the Prime Minister's Office on Mar. 6 and 8, 2018. (Photo from Chinese Embassy in the PNG)
Chinese President Xi Jinping offered condolences to the Governor-General of Papua New Guinea (PNG) Bob Dadae on Mar. 8 over the strong earthquakes that recently hit the country.

A powerful 7.5-magnitude earthquake jolted the southwestern Pacific country on Feb. 26, triggering landslides and flattening buildings. Over 143,000 people were affected, with 17,000 displaced from their homes, according to local media. Several strong aftershocks rattled the region and the latest one of 6.8 magnitude took place on Mar. 9 Beijing time.

In the message he sent, Xi said that he learned earthquakes had struck the central regions of the PNG, causing heavy casualties and property losses. On behalf of the Chinese government and people as well as in his own name, Xi offered his condolences to the victims and the injured and sympathy to their families and relatives.

Chinese people share the agony of the people in the PNG, he said, pledging that China is willing to provide support and help to its best capabilities.

Xi believed that under the leadership of the PNG government, its people will overcome the difficulty and rebuild their homeland at an early date.

Chinese community and companies in the country have offered aid immediately after the quakes, making donations to local community to help them get through the difficulty and rebuild their hometown, according to the Chinese Embassy in the PNG.

Two batch of donations, including $710,000 in cash and $60,000 of relief supplies, were delivered to PNG Prime Minister Peter O'Neill at two ceremonies held on Mar. 6 and 8.

O'Neill extended gratitude to the Chinese community and companies for their strong support and generous aid to the rescue and relief work as well as post-quake construction.

Reviewing the friendly cooperation between the two countries, he spoke positively of China's long-term assistance for the development of his country and thanked Chinese government and people for condolences and support after the earthquakes.

The PNG is an island country located in the southwestern Pacific Ocean, at the point of collision of several tectonic plates. Sitting on the Pacific Ring of Fire, a horseshoe-shaped area that is frequently shaken by earthquakes and volcanic eruptions, the country has been hit by several earthquakes above 6.0 magnitude in recent years.