By Yan Huan, Hou Lulu from People's Daily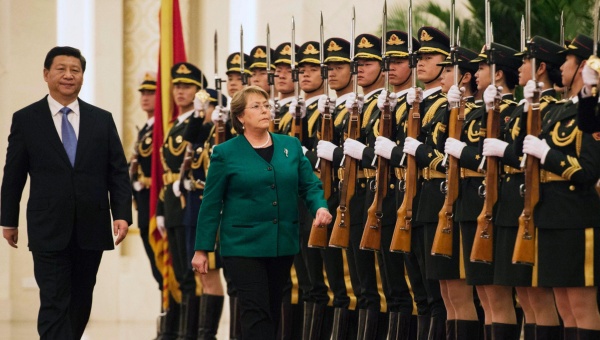 Chinese President Xi Jinping's upcoming state visit to Chile is of vital significance as it will bring both countries new opportunities to deepen their political, economic and cultural cooperation, Chilean Foreign Minister Heraldo Muñoz told the People's Daily before Xi kicked off his tour.

Muñoz lauded the host of "firsts" created by Chile in its exchanges with China, illustrating that the country was not only the first South American nation to establish diplomatic ties with China, but the first country that reached a bilateral agreement on China's accession to the WTO, the first to recognize China's full market economy status, and the first to sign a free trade agreement with China in Latin America.

China opened the first clearing bank for transactions in renminbi (RMB) in Latin America in Chile's capital Santiago last year, he elaborated, concluding that Chile, also known as "ends of the earth," has been a pioneer in developing ties with China.

"Over the past decades, Chile and China have set up an unbreakable strategic partnership featuring mutual trust, and such ties have brought tangible benefits to their further development," the foreign minister said.

He believed that under current circumstances, the mutual understanding, mutual respect and effective interactions between Chile and China will bring them more chances in reinforcing ties.

Muñoz stressed that his country expects more Chinese investment, and hopes to benefit from China's rich experience in infrastructure construction, citing the construction of a binational tunnel linking Chile and northern Argentina as an example.

According to him, as Chile began to assess bids for the construction of the Agua Negra tunnel in October, it also looked forward to the participation of Chinese enterprises in this corridor connecting the Pacific and Atlantic.

Chile also expects more Chinese investment in its energy and high-end tourism industries, the minister underlined, explaining that its abundant tourism resources like Easter Island and Torres del Paine National Park, nice delicacies and competitive infrastructure are ready for tourists from worldwide.

Praising bilateral trade, the diplomat said that the trade volume between Chile and China grew fourfold in the past decade, with important breakthroughs made in non-mineral fields.

He further explained that copper dominated Chile's export products in the past years, but as Chile diversified its export products based on agriculture and processing of agricultural products, its export portfolio has extended to fruits, wine, lumber, chemicals as well as other derivative products.

In the past 10 years, Chilean food exports to China have grown tenfold, and the South American country has become China's major supplier of blueberry and cherry, Muñoz said. Salmon from Chile now makes up 77 percent of China's imported salmon as well.

The two countries are now discussing on the possibilities to further upgrade their free trade agreement, noted the minister.

During Xi's upcoming visit, Chile hops to deepen dialogues with China, expand bilateral exchanges, bolster bilateral cooperation in all fronts, and yield more fruits from pragmatic cooperation in talent training, technology, space exploration, new energy development, protection and studies of Antarctica, coping with climate change and natural disasters, modernization of agriculture and mining as well as tourism, Muñoz expressed his country's expectation towards Xi's trip.

"We believe that both countries will further expand two-way trade, and China will maintain its position as the largest trading partner of Chile. We will make more efforts in investment as well," the diplomat concluded at last.