By Ding Zi, Zhang Zhiwen from People's Daily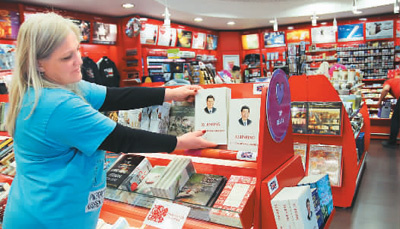 The Cambodian version of the book "Xi Jinping: The Governance of China", which offers a new way to understand Chinese President's governance philosophy, has won popularity among Cambodian political, academic circles as well as readers since the book was launched in the country in mid-April.

The book collects speeches, talks, interviews, notes and letters of the Chinese leader.

"The book is a best seller among all political books of its kind and receives the best reader reviews," said Quan Yangang, general manager of a Chinese bookstore in Cambodian capital Phnum Penh.

A total of 1,600 Cambodian copies of the book were sold in a short period of time after the publication of the first 2,000-plus books, Quan told People's Daily.

"Before the book was published, we did a survey, during which a lot of local readers asked us to leave a book for them so that they could learn it in detail," Quan disclosed. "After my friends bought the book, they didn't read it just to kill time, instead they learned the book very carefully," he added.

"China has been forging ahead under Xi's leadership over the past 5 years, and the Cambodian readers are keen to find Chinese solutions and methods in the book," said Liu Xiaoguang, editor-in-chief of The Commercial News of Cambodia.

"Many readers are still contacting us to learn more information about the book, such as where to buy it and how do they feel about it," Liu said.

Cambodian Prime Minister Hun Sen speaks highly of the book, saying it is a collection of President Xi's important governing philosophy and includes the essence of China's experience in building a socialist society.

Hun Sen said he was impressed by Xi's ideas on China Dream, governance of the country, anti-corruption, deepening reform, rule of law and peaceful development.

The prime minister said he always asks officials, scholars and students in his country to carefully study the book, draw experience from it and put the knowledge into their work of pushing forward the country's development.

Cambodian readers expressed that after reading the book, they come to fully appreciate the Chinese President's pragmatic style of work and personal charm in running the country.

"You will see Xi's charisma of administering the country after reading his book," said Chea Munyrith, former director of the Confucius Institute of the Royal Academy of Cambodia, who assisted in the translation of the book into Cambodian.

"Xi is a politician with an international horizon who closely connects China to the world. He is also an outstanding diplomat who promotes the concept of peaceful development and common prosperity on the world stage," Chea noted, adding that his proposal of the construction of the Belt and Road enables China to drive the global economy with practical actions.