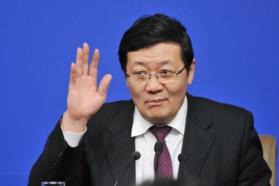 By Li Lihui from People's Daily

Chinese Finance Minister Lou Jiwei hailed the remarkable harvests reaped in G20 fiscal and finance channels, saying that the tasks set at the beginning of this year have been accomplished and those outcomes will be submitted to the upcoming Hangzhou Summit for review.

Lou made the remarks in a recent interview with People's Daily ahead of the G20 Summit slated for Sept. 4-5 in the eastern Chinese city of Hangzhou.

According to Lou, since the beginning of this year, three meetings of finance ministers and central bank governors, four meetings of finance and central bank deputies and more than 20 working group meetings and study group meetings have been held to prepare the fiscal and financial policies for the summit.

Centering on the theme of the summit, the business leaders discussed global economy, "G20 Framework for Strong, Sustainable and Balanced Growth," investment and infrastructure, international finance architecture and other topics, Lou further noted, adding that a number of influential accomplishments have been generated as a result.

Lou stressed that one goal of China, the rotating presidency of the G20, is to create new mechanisms for the fiscal and finance channels. Such move aims to transform G20 from a crisis response mechanism into a long-acting governance one and shift its focus from short-term policies to structural reform.

Led by China, financial and central bank officials from G20 members have optimized the top-level design for structural reforms, identified nine prioritized areas and 48 guidelines, and formulated an index system to measure the effectiveness of the reform, Lou briefed the achievements, adding that it sets a precedent in G20 history.
These efforts aim to boost growth by addressing both symptoms and root causes, the minister explained.

According to Lou, those achievements in fiscal and finance channels are featured with not only innovation and vitality, but also interconnection and inclusiveness.

In terms of innovation, an innovation-driven growth pattern was prioritized. The policy makers worked out a G20 Blueprint on Innovative Growth, advising to drive sustained medium-term and long-term growth of the global economy through structural reform as well as new industrial revolution, digital economy and other innovative ways.

The minister added that the approaches share the same principle with China's efforts in promoting supply-side structural reform and improving the quality and efficiency of supply system.

In terms of vitality, in order to maintain the economic vitality by strengthening macroeconomic policy coordination, the business leaders for the first time proposed using monetary, financial and structural reform measures to boost growth and stabilize outlook.

In order to release economic vitality by improving global governance, they also agreed to push reforms of the World Bank and the International Monetary Fund, establish inclusive framework that can curb Base erosion and profit shifting (BEPS), enhance international financial supervision, urge the developed countries to fulfill their commitment on climate fund, improve sovereign debt restructuring mechanism and global financial security network, in a bid to provide institutional guarantee for the vitality and sustainability of the world economy.

In terms of interconnection, these business officials put emphasis on G20's sense of community of shared interests. They urged the members to address challenges by reinforcing cooperation, and based on the "Belt and Road" Initiative put forward by China, enhance global connectivity by encouraging multilateral development banks to expand infrastructure investment, so as to build a platform of information exchange, mechanism coordination and project cooperation.

In terms of inclusiveness, they agreed to attach great significance to inclusive growth of G20 members and help medium-sized and small-sized enterprises. Highlighting the importance of taxation, they also reached consensus to help developing nations improve their capability in boosting growth with domestic resources such as taxation.

Amid the arising risks and challenges confronted by the global economy and finance since the beginning of this year, the business officials have been making efforts to strengthen macroeconomic policy coordination among G20 members in order to bolster economic growth and stabilize the financial market, Lou said.

He added they have promised to use all policy tools-- monetary, fiscal and structural--individually and collectively to realize vibrant, sustainable and balanced development.

They also reaffirmed that they will refrain from competitive devaluations, resist all forms of protectionism, consult closely on exchange markets, and prepare well for potential risks caused by Brexit, the refugee problem and terrorism, Lou stressed, adding that all sides will also study the suitable policies that can be adopted by each country.