By Xie Yahong from People's Daily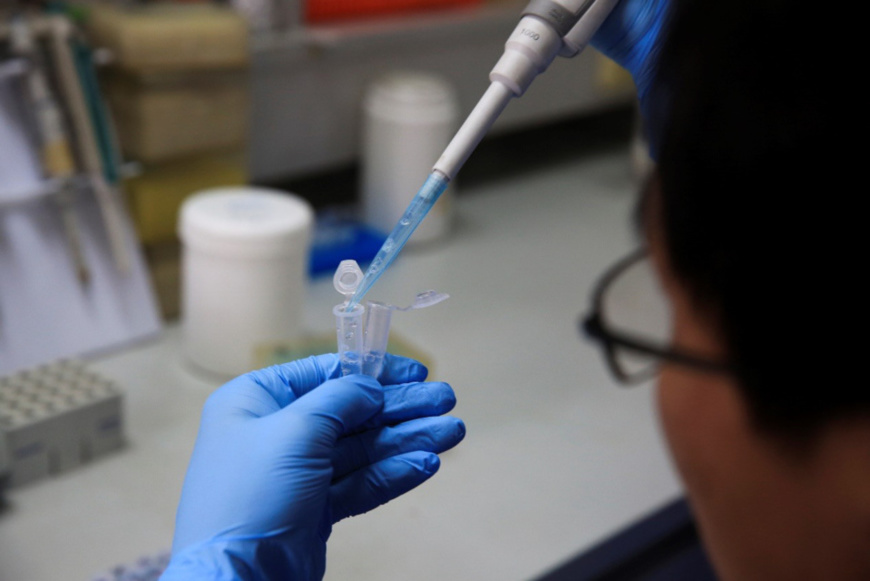 A researcher prepares for a test at a national key laboratory of silkworm genome biology in Southwest University, Chongqing municipality, May 31, 2017. (Photo by CFP)
Chinese scientists have identified the crucial factor that activates gene expression in human embryos, providing significant theoretical basis for the studies on eugenics, said Xue Yongbiao, a member of the 13th National Committee of the Chinese People's Political Consultative Conference (CPPCC).

The new discovery brought Chinese scientists a step closer to decode the mystery of human development at a very early embryonic stage.

The research was finished by a team from Beijing Institute of Genomics (BIG) under Chinese Academy of Sciences (CAS), a group from Center for Reproductive Medicine affiliated to Shandong University as well as a group from Guangzhou Medical University, said Xue, also director of the BIG, adding that the result was published on scientific journal Cell on Mar. 9.

Fertilized eggs are where human lives start. How a fertilized egg develops into a complex organism with 36 vital organs is one of the biggest puzzles for life science.

During human growth, the genes are expressed at the right time and place in accordance to a particular sequence. The process is called genome expression programming.

However, the activation sequence of gene expression at early embryonic stage have long been troubling scientists.
Given a lack of research data, the Chinese scientists created a method that only consumes very few amount of cells. They are the first in the world to have a probe into the activation mechanism of embryonic genomes.

The research found that Oct.4, a transcriptional factor, plays a crucial role in activating zygotic genome expression.

According to their research, older genes usually start expression at early embryonic stages, and younger ones at later stages because the older genes, shared by more life species, are needed during earlier development.

They also discovered that the mutation of DNA would drive human evolution. To be more specific, transposons, a class of DNA elements, can jump from one position to another in a genome, and cause DNA mutations.

Transponsons are active in early embryos, and the mutations caused by their mobility are more likely to be passed to the germ line, and then to the next generations, scientists added.

Xue believes that the research opens a door for the mankind to decode secret of human embryonic development and evolution, and will lay a theoretic foundation for the study of eugenics.