By Liu Lingling from People's Daily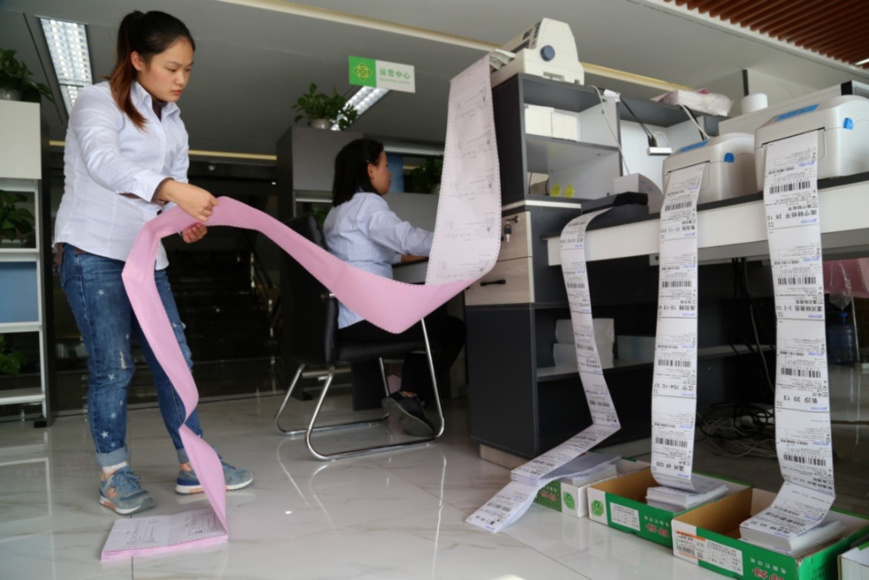 A staff of a poverty alleviation park in central China's Henan province print online orders of iron stick yams. (Photo by Xu Hongxing from CFP)
Sharing economy, social platforms, and other new business formats have proved to be effective tools for China's poverty alleviation campaign in rural areas. E-commerce ,in certain degree,is helping revitalize China's rural areas.

China's Ministry of Commerce said it has allocated 4.14 billion yuan ($654.25 million) in 2017 to encourage e-businesses in 499 poverty-stricken counties, covering 60 percent of the total poor counties across the country.

A total of 237 counties on China's poorest list were selected as pilot areas to cast off poverty by developing e-business.

Online retail sales in China's most impoverished counties grew 52.1 percent from a year ago to stand at 120.79 billion yuan (or 19 billion US dollars) in 2017. The growth was 13 percentage points higher than the overall rate in rural areas.

E-commerce is providing a platform to sell agricultural produce with regional features online. JD.com, one of the country's e-commerce giants, has helped sold more than 3 million agricultural products for 832 poor counties, with online sales surpassing 20 billion yuan. More than 25,000 rural residents got a job thanks to the online business.

Many agricultural products even went popular online, such as "Running Chicken", a pilot project to help poor rural households in Hebei province earn money by selling chickens, kiwi fruit in Cangxi, southwest Sichuan province and black bee honey in northeastern China's Heilongjiang province.

As a result, an increasing number of poverty-stricken areas have shaken off poverty and stridden to prosperity.

A prickly pear producer in southwest China's Guizhou province, for instance, registered an online sale of 8.19 million yuan in 2017. The business provided jobs for 1,394 people from 367 poor households and increased their annual income by 2,000 yuan on average.

The same effect took place in remote Wenshan of southwest China's Yunnan province. An extra 8,000 yuan on average has been created for each of the 840 rural families taking part in e-commerce, since the new business form was introduced to the border county.