By Wang Junling from People's Daily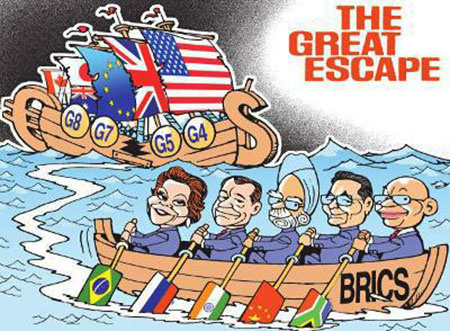 A slew of economic and financial achievements are expected to be yielded from the upcoming 9th BRICS Summit, experts from China's top economic planning agency and finance authority said at a briefing, adding that it not only indicates the increasing maturity of the cooperation mechanism, but means more benefits for the world economy.

They made the statement at a briefing hosted by China's State Council Information Office on BRICS economic and financial cooperation on Thursday.

The meeting highlights are expected to include the important outcomes from coordination in fiscal and monetary policies, structural reforms, development of the New Development Bank (NDB), international taxation, audit supervision and anti-money laundering, said Zhou Qiangwu, director general of the International Economics and Finance Institute with China's Ministry of Finance.

BRICS members, all developing countries in a similar developmental stage and sharing similar economic aggregate and growth dynamics, are highly complementary to each other in terms of economic development, He Ping, deputy dean of the School of Finance, Renmin University of China, told the People's Daily.

BRICS countries and the region where they are located have a great potential in infrastructure development, he added, suggesting that developing economies represented by them provide funding to each other.

China, with apparent advantages in these aspects, can be an important impetus for broader economic and financial cooperation among the BRICS countries, the deputy dean noted.

The BRICS countries are now needed to eliminate various explicit and hidden barriers existing in their cooperation as they face the twin pressures of stabilizing growth and restructuring their economy, said Ye Fujing, director general of the Institute for International Economic Research of China's National Development and Reform Commission.

Their development is also constrained by unsettled outside challenges brought about by a complicated and severe international political and economic environment, the scholar added, citing the deep-seated difficulties constraining the world economy, insufficient impetus for growth as well as the stubborn determination of some developed countries to maintain their vested interests.

Ye said that the BRICS countries, in the next stage, are expected to address the challenges in their own development and global growth by strengthening cooperation in innovation, opening wider to each other, launching landmark cooperation projects and striving for unimpeded trade, financial integration, facilities connectivity and intensified people-to-people bonds.

They should also seize the cooperation opportunities in emerging industries, and stretch their cooperation to more beneficiaries, the expert added.

A prior way for effective cooperation among developing countries was to launch more concrete projects, He said, but added that the process involved government and financial support in the early stage.

The developing nations, therefore, need to enhance political mutual trust and policy coordination through high-level meetings and on the basis of mutual benefit and a win-win result, so that they could better deepen economic and financial cooperation and promote the implementation of the projects, he noted.

The NDB, undoubtedly a highlight of the BRICS economic and financial cooperation, is expected to make further progress in the upcoming summit, according to Zhou, saying the bank's total loans are projected to reach $2.5 billion in 2017.

Citing the example of the dam that South Africa hopes to build on the Inga River to ease its power shortage, Shen Yi, director at the Center for BRICS Studies of Fudan University, said that such a project not only meets interests of the BRICS members but the region as well.

If the NDB could take the lead to support such projects that others can benefit from, it would be a model set by the BRICS members for the whole world, Shen noted.