By Li Yingqi from People's Daily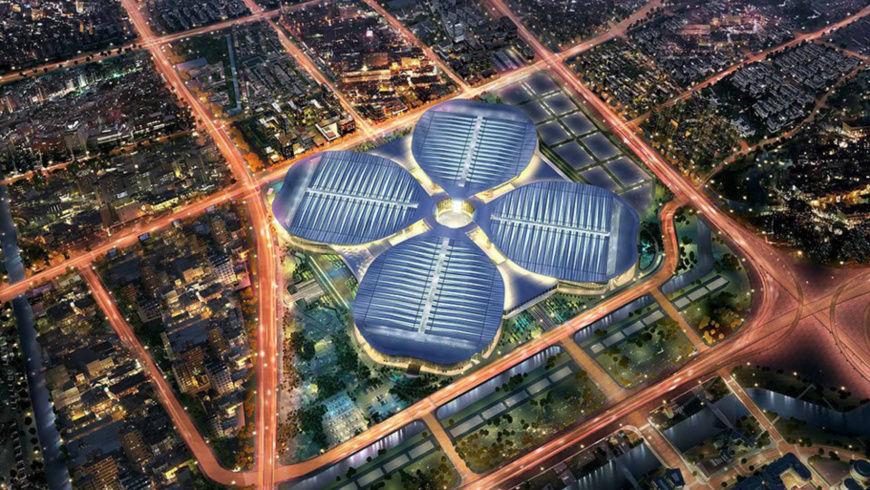 Photo shows a panoramic view of the National Exhibition and Convention Center in Shanghai, where the first China International Import Expo (CIIE) will be held in November. (Photo from the website of the CIIE)
The first China International Import Expo (CIIE) is scheduled to open on November 5 in Shanghai and last for six days. A total of 165 countries and regions have so far designated 197 departments to coordinate the participation of their enterprises in the expo, the People's Daily has learned.

The CIIE, which is appealing to foreign business owners, is proceeding well. Up to now, more than 1,000 enterprises, including the Fortune Global 500 companies and industrial leaders from 120-plus countries and regions, have signed up for the expo.

Japan External Trade Organization, as Japan's organizer authorized by the government, has asked the expo host to reserve a 10,000-square-meter exhibition area for Japanese enterprises and institutions during the expo.

UK Prime Minister Theresa May said that her country is very proud to be a guest of honor to the expo.

The Ukrainian government, in a statement issued recently, said that Ukraine will take part in the first CIIE and set up a national exhibition stand at the expo.

The expo will be a good chance for Ukrainian enterprises to fully demonstrate and promote their products, said the statement.

The Singapore Business Federation, the only organizer designated by the Singaporean government, plans to recruit at least 100 enterprises for the expo, with the aim of promoting Singaporean products in the Chinese market.

Firms from Germany, the UK, the US, Australia, Belgium, Japan and other countries and regions will put on display their cutting-edge technologies and products in artificial intelligence (AI), Internet of Things, energy conservation, environmental protection, ecology, 3D printing and new energy equipment.

The CIIE is the first import-themed national expo in the world, said Yang Weiqun, deputy director of the department of Asian affairs at the Ministry of Commerce.

The expo is a manifestation of the Chinese government's firm adherence to the fundamental national policy of opening up and the promotion of a new round of high-level opening-up, as well as the concrete reflection of the Belt and Road initiative, Yang added.