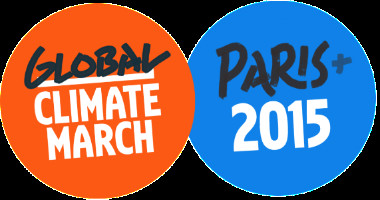 Sunday November 29, 2015 - Worldwide: On the eve of the Paris Climate Summit, over 570,000 people around the world took to the streets over the weekend for the record-breaking Global Climate March to urge leaders to scale up action on climate change to achieve 100% renewable energy, eliminate poverty and protect people from worsening climate impacts.

This number of 570,000 is still provisional and could rise further with big marches in Mexico City, Ottawa and Vancouver still to come in later today. These events came despite the Paris event, where 400,000 were expected to march today, being cancelled.
 

People joined in more than 2300 events across 175 countries. Coming from all walks of life, people from affected communities, development organisations, climate movements, the young and old, people of faith, indigenous people, trade unionists and many more marched together.
 

In Paris, 22,000 pairs of shoes - including that of Pope Francis and UN Secretary General Ban Ki-moon, were placed at Place de la Republique, on behalf of the 400,000 people who were expected to have marched if possible. Afterwards, 10,000 people held hands in solidarity with frontline communities affected by climate change.
 

The marchers demonstrated that tackling climate change affects so many of life's essentials, from equality and poverty, food and energy, to water, jobs, safety and human rights. Support for scaling up climate action has never been higher, and world leaders cannot ignore these calls. Doing so would place them firmly on the wrong side of history.
 

Highlights of the Global Day of Action:
 

Records were broken in more than 10 countries which saw their biggest-ever climate marches with Australia (140,000, including 60,000 in Melbourne), India (140,000) New Zealand (33,000), Bangladesh, Britain (over 50,000 in London), Italy (over 20,000 in Rome), Spain (over 20,000 in Madrid), Denmark (over 10,000 in Copenhagen), Greece (over 3,000 in Athens), Switzerland (over 5,000 in Geneva), and Austria (over 2,000 in Vienna).
Events took place in countries as diverse as Mongolia, Saudi Arabia and Samoa took part. A march took place in Sanaa, Yemen, despite bombs falling close to the start of the march; nuns marched in South Korea; there were powerful marches in the the Pacific islands -- New Caledonia and the Marshall Islands. People marched in cities in Senegal, the Gambia, Cote d'Ivoire, and Nigeria; and in Kenya, there was a march across the Equator.
The UN Climate Summit in Paris (30 Nov-11 Dec) is an opportunity for over 190 countries to build a platform, which scales up the just transition away from fossil fuels to 100% renewable energy for all, and provides adequate support for those affected by climate impacts.
 

Climate change is already harming communities all around the world and a further one hundred million people could be forced into poverty if we do not rapidly scale up climate action.
 

We have the solutions to tackle the problem - frontline communities, cities and businesses are leading the way in harnessing the benefits of renewable energy and boosting the resilience of vulnerable communities. Now it is time for governments to listen to the people on the streets and step up.
 

A strong, diverse coalition of groups supporting climate action will be in Paris during the Climate Summit to continue to maintain pressure on governments to deliver an ambitious agreement.

Organisations participating in the marches made the following comments:
 

Kelly Dent, climate change lead, Oxfam

The voices of people all around the world calling for climate action are echoing in the streets of Paris and must now ring in the ears of world leaders meeting at the summit tomorrow. Millions of people have shown they expect the best possible climate deal for the world's poorest people already hit hardest. For the future of us all, world leaders must aim high and deliver.
 

Hoda Baraka, global communications manager, 350.org

In Paris, we joined hands today against climate change and violence. People here and hundreds of thousands who are taking part in climate marches worldwide, have a clear message for world leaders: keep fossil fuels in the ground and finance a just transition to 100% renewable energy.
 

Kumi Naidoo, executive director of Greenpeace

Across five continents, people have taken to the streets to demand that we change the way we power our world. In towns and cities across the globe, people have called for political leadership on climate change. They want a climate deal that keeps temperature rises in the safe zone, that calls time on the fossil fuel era, and that sets us on a course towards 100% renewable energy by the middle of the century. If in two weeks we have that, then Paris will have delivered an historic agreement. The people have marched, and we'll be keeping up the pressure over the coming fortnight, but now it's over to the politicians.
 

Mohamed Adow, Senior Climate Advisor, Christian Aid

As someone from Kenya, a country which is feeling the impact of climate change, it means a lot to see people from all walks of life, of every colour and creed, speaking with one voice about climate change.  My hope is that the world leaders in Paris tomorrow will hear that voice and deliver a strong outcome. Today's act of solidarity is on an unprecedented global scale. The numbers of marchers in places not known for climate change activism shows the scale of the international demand for political action.
 

Liam Upson, activist, UKYCC

We joined the March to tell heads of state that they're negotiating our future and they must do more. We demand a clear, fair future.
 

Amitabh Behar, national anchor, action/2015 India

Addressing climate change, and ending poverty and inequalities are two sides of the same coin. We cannot deliver sustainable development without tackling climate change, and we cannot tackle climate change without addressing the root causes of poverty, inequality and unsustainable development patterns. If leaders want to fully implement the newly adopted Sustainable Development Goals, aimed at tackling inequality and ending poverty within a generation, they will need to adopt and implement a transformative agenda at the COP21.
 

Isaac Kabongo, chairperson, Climate Action Network Uganda

We the citizens of Uganda we have demonstrated our will and commitment to tackling the challenge of climate change, Government of Uganda and the developed countries should provide leadership, Resources and policy guides on the implementation of the commitment.
 

Safa' al Jayoussi Head of Climate & Energy Campaigns at IndyACT

The marchers on the streets in Beirut and Cairo show that the Arabs do care about climate change and it is in their agenda as our region is also very vulnerable and we are already having extreme weather events. The mobilization is a call from our people for the leaders in  COP21 to sign a binding agreement that is fair for all.
 

Stephen Brown, European Director at Global Citizen, speaking from Paris

Poverty and climate change are inextricably linked and as extreme climate worsens it is the poorest of our communities that will be hit the hardest - unacceptable when they are the least to blame. If we don't tackle climate change now, we will undermine all the incredible progress we have already made in eradicating poverty. This weekend hundreds of thousands of people, including many in vulnerable communities, have taken to the streets around the world calling on governments attending COP21 to take urgent action. World leaders must respond to this huge outcry by delivering a bold new international agreement to tackle climate change
 

Henda Gandamanah, action/2015 coordinator in Indonesia, speaking from the march in Jakarta

Climate change is already a reality for us, we are feeling the impacts every day and we are suffering now. From severe floods to droughts, people are already losing their lives and their livelihoods. We have been marching because we want to send a message to leaders meeting at COP21. They must hear our message loud and clear; our lives matter. They must act now for all of our futures, before it is too late.
 

Kirsty McNeil, Director of Campaigns at Save the Children, a member of action/2015 attending the London Climate March

Children are on the frontline of climate change. In the world's poorest countries they are already feeling the effects of climate change, despite being least responsible for its causes. This weekend, as part of the Global Climate March, hundreds and thousands of people, including many children and young people, have called for urgent action to fight climate change. When leaders meet in Paris this week they must remember that the decisions they will take now will affect generations to come. Now is the time for a strong deal for climate action.

Media Contacts:
Ria Voorhaar, [email protected], mobile: +49 157 3173 5568