By Zhou Xiaoyuan, People's Daily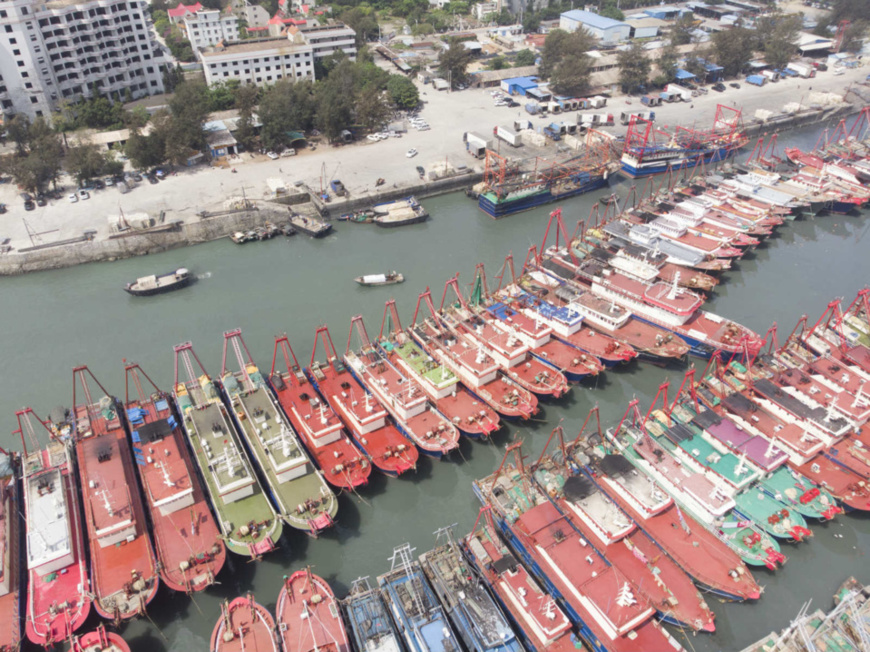 On April 29, fishing boats berth at the Dianjian fishing port, Qiaogang township of south China's Guangxi Zhuang Autonomous Region, as the summer fishing moratorium in the South China Sea is about to come. (Photo by Li Junguang/People's Daily Online)
South China's Guangxi Zhuang Autonomous Region, actively integrating into the Guangdong-Hong Kong-Macao Greater Bay Area and tapping into its coastal resources, is embracing better development.

Longzhou county of Guangxi, for instance, has brought wealth to local residents by fully exploiting its advantages as a border port.

"Our village received over 20,000 yuan ($2,933) of bonus in the second quarter of the year," said a villager from Xingfu Jiayuan community of the county, referring to the Q2 dividend distribution of a border trade cooperative in the community that totaled nearly 480,000 yuan and covered 26 villages in 5 border townships.

Longzhou, situated in the mountains, is covered by valleys and dense forests. Therefore, transportation was a big headache for the county, which had led to inadequate development. At present, the county is accelerating the construction of border ports and border trade markets, aiming to develop relevant industries.

Xingfu Jiayuan community is one of the nine resettlement sites for impoverished residents in Longzhou. A total of over 2,300 poor villagers from 753 households have been relocated there so far.

By establishing poverty alleviation workshops and encouraging the residents to participate in border trade transportation, the community has managed to maintain their income and become better off.

"I used to live in the mountains and mainly earned a living by growing sugarcanes and doing some gig work down the hill," Lu Juanmei, a villager in Shuikou township of Longzhou, told the People's Daily, adding that the income of her family was low and unstable.

Things started to change in 2018 when Lu, who was 35 years old then, was relocated to Xingfu Jiayuan community. "Now I work for the poverty alleviation workshop and receive quarterly dividends," Lu noted. After moving to Xingfu Jiayuan, the woman's children don't have to go afar for school, as one is built just outside the community.

Located in the east of Guangxi, Hezhou is adjacent to the Greater Bay Area. As a pilot zone for Guangxi's integration into the construction of the Greater Bay Area, it is taking an active part in the relocation of industries of the Greater Bay Area, trying to boost its economic growth.

Shenzhen Titan Micro Electronics Co., Ltd., headquartered in Guangdong province, has established a plant in Hezhou Ecological Industrial Park.

"We made such a choice as we have faith in Hezhou's geographic advantages, resources, as well as the city's integration into the Greater Bay Area," explained Liang Jinchang, deputy general manager of the company.

According to him, it took only around half a year for the company to have its phase-1 project constructed and put into operation since it agreed to invest in Hezhou in May 2019.

Liang told the People's Daily that his company designs products in Shenzhen, and packages and tests them in Hezhou. He said such a mode can effectively lower the cost for the company.

EHang Intelligent Technology Co., Ltd. is another enterprise from Guangdong that established a production base in Hezhou Ecological Industrial Park.

"We signed an investment agreement in December 2019 and started production in March this year," said Huang Wenting, head of the production base. On July 1, 2020, which marked the 100th day since the base started production, it assembled its 1,000th UAV, Huang added.

The company is quite confident about its UAV business given the policy support and market environment in Guangxi, Huang told the People's Daily.

In the first half of this year, Hezhou introduced 157 projects, including 84 related to the Greater Bay Area, with a total contracted investment of 18.88 billion yuan, 13.6 billion yuan of which has been in place.

After 40 year's development, Qiaogang township in Beihai, Guangxi, established for resettling returned overseas Chinese, has become an important fishing production base and a favored destination for tourism and leisure.

The township is home to 10 fishing companies that own over 2,000 fishing boats, trading nearly 500,000 tons of aquatic products each year. Besides, it receives over 3.5 million tourists on an annual basis, and the tourism industry has created 3,000 local jobs.

In 2019, Qiaogang's GDP exceeded 2 billion yuan, and the per capita income of local farmers and fishermen stood over 20,000 yuan.

The development of Qiaogang township is merely an epitome of the opening-up of Beihai. After the approval of a development plan for the Guangxi Beibu Gulf economic zone in 2008, the city has been embracing rapid development.

Qiaogang and Beihai are just examples of Guangxi's prosperity. At present, the handling capacity of coastal ports in the autonomous region has exceeded 200 million tons; the Xijiang River golden waterway with a throughput of over 100 million tons is directly connected to the Greater Bay Area; the cargo throughput of the Tieshan Port has increased from 1.17 million tons in 2010 to 24.27 million tons in 2019.

From the borderline and coastline to the vast inland areas of the autonomous region, a strong voice for opening-up and cooperation is resonating.