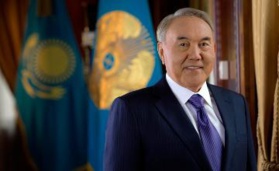 By Xie Yahong from People's Daily
Given the current global geopolitical arena as well as the uncertainties faced by global financial system, the G20 Summit must demonstrate the unity needed to secure the stability of world economy, Kazakh President Nursultan Nazarbayev said ahead of his attendance at the G20 Summit to be kicked off on Saturday.

Nazarbayev started a five-day working visit to China on Thursday and will attend the Hangzhou Summit in his role as head of a guest country.

Extending gratitude to his Chinese counterpart Xi Jinping for the invitation, Nazarbayev told the People's Daily that G20 has been honored as the most important mechanism to address global economic roadblocks, coordinate macro-economic policies of its members, and reform international financial system.

Kazakhstan fully agrees with the main summit agendas selected by China as the rotating presidency, namely innovation, new industrial revolution as well as digital economy, the president said, adding that his country is most concerned about topics related to global financial security network.

He further explained that precisely because of the serious imbalance of world economy and financial system, the central governments and banks now have fewer tools to bolster the economy. Given so, some countries resorted to protectionist measures, but this will be utterly useless.

Capital is now flowing out of developing nations to the developed world, but this will worsen the former's capital deficiency, and cannot boost the growth of the latter, Nazarbayev stressed, adding that the total demand worldwide will be reduced as a result.

Most importantly, some countries now are transforming from resource-oriented economies to an intelligence- and innovation-driven model, but most developing nations have not well prepared for such changes yet, he underlined, urging that, given those uncertainties, the G20 summit should unite the efforts of major countries to sustain the world economy.

Nazarbayev also offered his remedies on how to revive the global economy. According to him, the future world needs a more inclusive globalization, and the human resources of developing countries should be given priority to this end.

The suggestions are based on long-term demands to avoid the acceleration of imbalances since the developing nations will make up a large part of global population growth in the future, the president added.

He also urged all countries to devote themselves to reform for growth rather than relying on the improvement of external environment, saying that only by adapting to the new economic arena through reforms, can all countries learn from each other and take the chances created by integration, thus guaranteeing sustainable global economic growth.

He also praised the "Belt and Road" Initiative put forward by China and affirmed his country's support for the proposal, advising that two of the three major transportation lines listed in the plan can be linked with his country's demands for infrastructure development stipulated by its "Bright Road" new economic policies.

Industry is another priority sector that the two countries can cooperate on, according to him, adding that the two governments have worked out a cooperation plan on production capacity cooperation and identified 50 cooperation projects worth over 26 billion dollars. These projects cover all industrial fields and two of them have begun implementation.

The president added that Kazakhstan and China have expanded their cooperation to all key economic and financial areas and now transforming the cooperation emphasis to high-tech industries will result in greater added value.

Such cooperation will help the two countries achieve better alignment in development goals and tasks and upgrade their cooperation, he said, concluding that "such mutually beneficial economic and trade cooperation between China and Kazakhstan sets example for other state-to-state and regional cooperation".