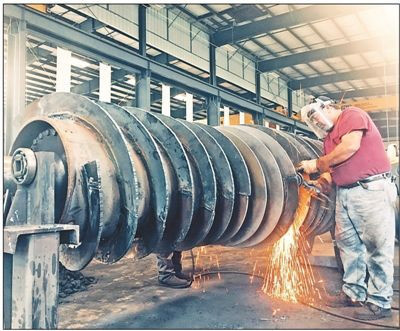 Workers of Birtley Industrial Equipment Corporation, the first China-invested company in Kentucky, are welding equipment. (By Wu Lejun from People's Daily)
Only cooperation can bring China and the US a win-win prospect, said governor Matt Bevin of Kentucky, a southeastern state of the US, stressing that a closer partnership between individual residents, businesses and sister cities is of great significance for the future of the world's two largest economies.

Describing challenges facing bilateral cooperation as an inescapable process, Bevin said what can be done now is to ensure a more intimate national and public bond no matter what is happening at the federal government level by cementing the exchanges at lower level.

"We must bear big picture in mind when looking into future, instead of stubbornly confining the horizon to the figures of trade surplus or deficits," Chinese Ambassador to the US Cui Tiankai said at the welcome banquet held by Bevin on Monday.

Cui stressed the importance of macro perspective when seriously and effectively handling the emerging problems.

His remarks were echoed by the business representatives attending the banquet, who also expressed their strong aspiration for an intensified China-US economic and trade cooperation, and a healthy bilateral relationship.

Kentucky sits in the front row among the US states in terms of exports to China. Data released by Kentucky Cabinet for Economic Development showed that the state's exports to China, its fourth largest exportation destination, increased by 60% in 2017, and the vast majority was constituted by aerospace products.

By the end of this February, seven Chinese companies had bet as much as $10 billion dollars in the state by making investment or establishing plants, creating over 8,000 jobs directly for local residents.

After the US started to impose additional tariffs of 25 percent on Chinese goods worth $34 billion on July 6, a batch of centrifuges shipped to Kentucky-based Birtley Industrial Equipment Corporation, a provider of coal washing equipment, have fallen into one of the first victims, said general manager Zhao Chaoxun of Birtley, the first China-invested company in Kentucky.

"The equipment were manufactured by our parent company in China, and our American clients also feel frustrating as they have to pay for the costs resulted from additional tariffs," said Zhao, in a hope that the US administration could properly resolve the trade tensions as soon as possible.

It's headache that the additional tariff has raised the operation costs of local businesses, he told the People's Daily frankly.

The manger recalled that when Birtley plant was set up in 2013, US produced roughly 1 billion tons of coal each year, and Kentucky, who contributed a tenth to the national production, had a high demand for heavy duty coal equipment.

But trends in the coal industry began to change soon after the investment was made, and US coal production dropped more than 25 percent in the last few years, he said, adding that his company has already devoted energy to environment-friendly projects to adapt to the new situation.

The US bourbon whiskey industry is in trouble as well after it was selected by many countries and regions as a target for retaliation. "The tariff is a great blow to local producers like us," Eric Gregory, President of the Kentucky Distillers' Association complained.

He told the People's Daily that bourbon whiskey, which was recognized by the US Congress as a "distinctive product of the US" by concurrent resolution, has created 17,500 jobs and an annual value of about $8.5 billion for Kentucky.

Admitting that exploration of overseas market is not an easy job, Gregory said local producers lay importance on the emerging Chinese market with huge potential.

"We have expressed our concerns to the state and federal governments," he said, stressing that free trade is the key precondition to sell bourbon whiskey around the world, and the ongoing trade dispute is now top challenge for local wineries.

"Bourbon whiskey producers feel annoyed with the tensions. We have been worrying about a revenge resulted from the US tariff policy, but the fear finally turned into reality," Gregory said, warning that it will severely hit the overseas market of Kentucky-made bourbon whiskey, and lead to dire consequences including reduced employment and factory shutdown.

What Zhao and Gregory said were agreed by more business representatives in the state.

Describing economic growth as a result of establishing partnership, trusting each other and choosing the right timing, Robert L. Quick, President and CEO of Commerce Lexington, one of Kentucky's largest chambers of commerce, said that they expect a long-term and stable economic and trade relationship with China.

This July, he and chiefs of 58 local firms voiced their concerns over the tariff policy to Washington, in a hope that the White House can find out a proper solution.

Quick believes that though the trade disputes have not come to an end, bilateral economic and trade ties will brace for better future as long as both sides bolster cooperation and consultation.

This is the consensus shared by many of our members, said the CEO, whose chamber represents about 1,750 members.