By Jiang Feng, Tang Zhenjiang from People's Daily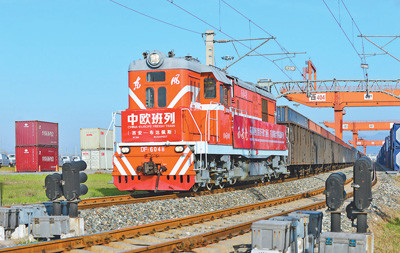 A new freight train connecting China's northwestern city of Xi'an with Budapest, capital and most populous city of Hungary, has formally started operation after the first 41-carriage train departed from Xi'an, capital of Shaanxi Province on Saturday.

The train was loaded with over 100 items including garments, toys, daily necessities, household appliance and electronic products.

It will leave China through the Alataw Pass in Xinjiang Uyghur Autonomous Region, and pass Kazakhstan, Russia, Belarus, Poland, the Czech Republic and Slovakia before reaching its destination in Hungary.

The trip spans 9.312 km and takes 17 days, over 30 days shorter than the previous sea and rail route.

It is the fourth freight train between China and Europe, following the routes linking Xi'an with Warsaw, Hamburg and Moscow. The trains will on one hand help Shaanxi province open up to the West, and on the other hand build a new global logistics corridor along the Silk Road Economic Belt.

Pic:
The first China-Europe new freight train linking Xi'an with Budapest is departing from Xi'an on April 1, 2017.