By Meng Haiying, Zheng Zhiwen, People's Daily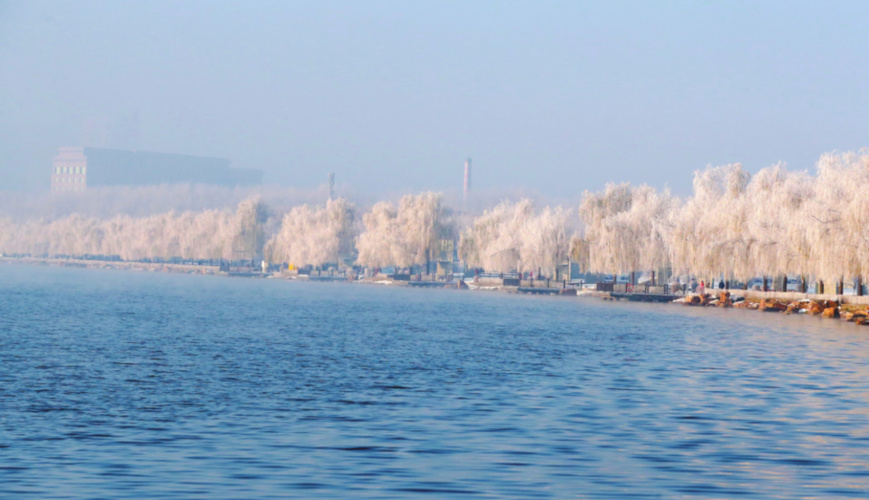 Photo taken on Nov. 15 shows rime rice along the Yitong River in Changchun, northeast China's Jilin province. (Photo from Changchun Evening News)
Hit by a heavy snow, Jingyuetan National Forest Park in Changchun, northeast China's Jilin province, recently put on a "white coat".

As far as the eye can see, there were towering pines and cypresses and a lake covered by ice. Squirrels were sometimes seen running in the woods.

"I'm here with my family to get some air. It took us around half an hour to get here by subway. It's very convenient," said a visitor surnamed Liu, who was strolling in the park.

Nowadays, spending some time in the parks has become a lifestyle of Changchun residents. According to statistics, the number of parks in the city increased from 66 to 186 in the past decade, and the total area of urban parks from 1,244 hectares to 4,761 hectares.

After decades of planning and construction, a man-made forest has been built in Jingyuetan National Forest Park, which is one of the biggest in Asia.

With 96 percent of it forested, the park covers 96.83 square kilometers and has a water area of 5.3 square kilometers.

Over the recent years, Changchun has been committed to strengthening urban governance, making huge efforts to expand green space and launching campaigns to rectify practices such as the violation of public green space.

Changchun has built a variety of featured landscapes by constructing green parks, reforming topography, and planting decorative vegetation. Besides, it also launches colorful activities centering around the culture of the city in parks.

The city has worked to advance the construction of pocket parks to further beautify its urban space over the past two years.

By the end of 2022, it had built more than 200 pocket parks, making park visits happy experiences that are easier to access for residents.

At the end of 2021, 37.17 percent of the city's residential area was covered by greenery, and the figure stood at 42.17 percent citywide. Besides, the city's per capita space of public parks reached 13.13 square meters.

In winter, mists are always seen on the Yitong River, the mother river of Changchun, and crystal-clear rime ice is formed on tree branches. They constitute a pure and clean picture together with the vast snow-covered ground on the banks of the river.

However, such a scene was rare years ago, as the river performed poorly in water security, environment, and landscape. Besides, riverside transportation and industries were also underdeveloped.

In 2016, Changchun launched a comprehensive treatment program for the Yitong River to improve riverside landscape, facilities, and functions.

"By adding greenery, establishing ped-and-bike systems, and building waterside pavilions, we have created waterside space with complete functions, which is pleasing to Changchun residents," said Nie Tianpu, an official with the Yitong River management committee.

So far, 17 new roads, over 100 sightseeing and fitness sites, as well as 1,350 hectares of green space have been built along the whole course of the river, creating a soothing and comfortable environment for citizens to walk and ride.

Besides, Changchun is also working to improve the public services in parks. According to Yu Yang, an official with the Bureau of Forestry and Landscaping of Changchun, the city has built many footpaths, sports facilities, and intelligent gyms in recent years to meet the fitness demand of the citizens. It has also opened science museums, exhibition halls, and mini libraries to nurture a thick cultural atmosphere.

In addition, the city is launching various activities in parks such as flower festivals and square dancing, as well as those about animal and plant protection, science popularization, photography, calligraphy, and painting.