By Li Yingqi from People's Daily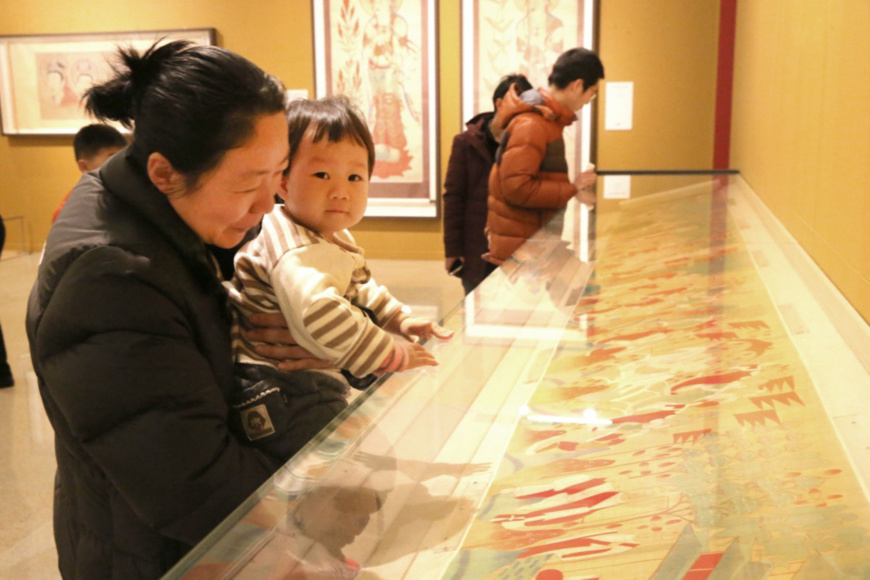 A woman takes her child to the Zhang Daqian Art Exhibition hosted by the National Museum of China, Sichuan Museum, and Rong Bao Zhai folk art gallery. More than 100 masterpieces of Zhang's artworks were exhibited. (Photo by CFP)
A total of 8.06 million visitors stepped into China's National Museum of China (NMC), one of the largest museums in the world, to learn art, culture and history in 2017, up 510,000 from a year ago, a recent report released by the museum said.

The number also means an average of 26,000 visitors per day. The growth of visitors can be attributed to more diversified exhibits, as well as the launched cultural education that attracted a great number of parents.

The exhibitions arranged in 2017 covered not only those showcasing the Chinese history such as the exhibition of civilization of the Qin (221 B.C.-207 B.C.) and Han (202 B.C.-220 A.D.) dynasties, but also those highlighting China's revolutionary culture and advanced socialist culture.

Overseas exhibitions, including the "Invention of Louvre" exhibition that displayed the treasures from France's Louvre Museum as well as "A History of the World in 100 Objects," a travelling exhibition curated by the British Museum, also arrived at the Chinese museum.

Saudi Arabian antiques were for the first time displayed in China thanks to the exhibition "Roads of Arabia: Archaeological Treasures of Saudi Arabia".

More media coverage is a contributor to the increase of visitors as well. The museum, in the past year, received more than 2,300 reporters and organized more than 180 interviews.

During the 2018 Spring Festival vacation, the number of daily visits exceeded 30,000 for days, thanks to multiple excellent exhibitions, including Zhang Daqian Art Exhibition which showcases the works by the master of art in the 20th century.

The Palace Museum, also known as the Forbidden City, attracted a new record of 16.99 million visitors in 2017.

Apart from the surging popularity of museum, If Treasures Could Talk, National Treasure and some other cultural relic-themed TV series also became trendy in the country.