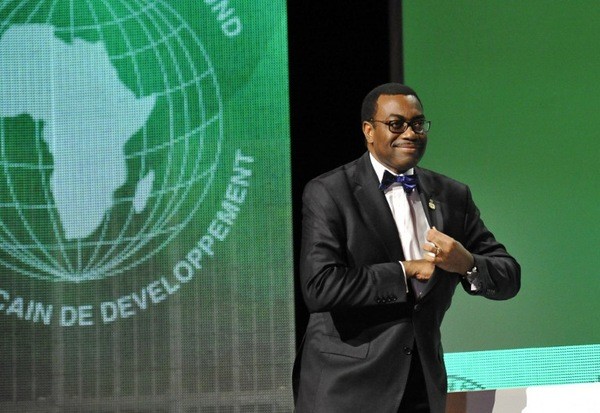 Akinwumi Adesina le 28 mai 2015 à Abidjan en Côte d'Ivoire. / SIA KAMBOU/AFP
Abidjan, Côte d'Ivoire, April 23, 2018 – President Akinwumi Adesina is attending the 2018 anniversary of the union between the Republic of Tanganyika and the People's Republic of Zanzibar that gave birth to the United Republic of Tanzania.

Adesina, who was invited as a special guest, will deliver remarks at the event, scheduled for April 26 at the Jamhuri Stadium in Dodoma.

As part of his State visit to Tanzania, the President will on April 27 perform the official opening of the Dodoma-Babati road project, which was co-financed by the Bank and the Japan International Cooperation Agency (JICA).

During his visit, the President and the Bank's delegation will hold bilateral meetings with Tanzanian President John Pombe Magufuli, development partners, private-sector representatives, African diplomatic corps and top Government officials in Tanzanian cities of Dar es Salam and Dodoma.

The Bank's delegation will then proceed to Kigali, Rwanda, to participate in the Ibrahim Governance Forum (April 27-29), where the President will host high-level bilateral meetings.

The Dodoma-Babati road is an important road network between the central and northern regions of Tanzania. It is also part of the East African Community trunk road network (Route 5), the Southern Africa Development Community Regional Trunk Road Network (RTRN-Route 25), and the Trans-Africa Highway from Cape Town to Cairo (Highway No 4). It will link Tanzania to the neighbouring countries of Zambia in the South and Kenya in the North, and to the southern and northern African countries.