By Zhang Huizhong, Ardak from People's Daily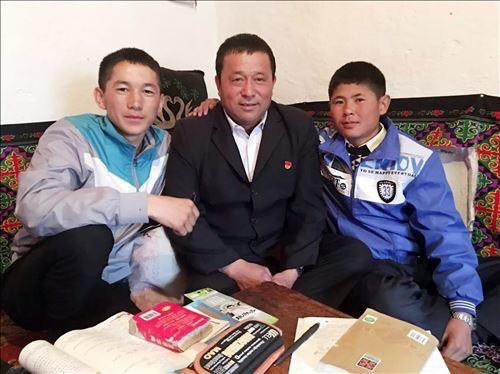 Photo shows Shen Jianjia (center) and two students he has helped. (Photo: www.jrxjnet.com)
Shen Jianjia, a retired soldier of the Han ethnic group living in northwest China's Xinjiang Uygur Autonomous Region, is regarded as a "father" by 173 students of China's different ethnic minorities.

Over the past 30 plus years, Shen has subsidized or raised 173 children of the Kazak, Uyghur, Khalkhas and Mongolian ethnic minorities. Now, some of them have started their careers, while some also joined Shen in helping more people.

In 1958, two-year-old Shen and his family settled down in a town of ethnic minorities in Tekes County, Ili Kazakh Autonomous Prefecture, Xinjiang Uyghur Autonomous Region. Born into a poor family, Shen was often fed by his Uyghur, Mongolian and Kazak neighbors, whom he will never forget.

As a receiver of help, Shen decided to assist needy children like him. When he was building a house for a neighbor in 1987, Shen knew a Kazak boy. Due to the long distance between school and his home, which is located in a pastoral area, the kid was unable to attend high school despite his outstanding performance.

Shen decided to accommodate the boy because he couldn't see the smart student drop out of school because of this. Later that year, he accepted another five students who were in similar difficulty.

"Though I was living on a skimpy salary of 80 yuan ($ 12.6) per month back in those days, I couldn't reject the students, and I finally got through it," Shen recalled.

Thanks to Shen's help, the students were all admitted by universities they preferred.

A total of 173 students were accommodated by Shen over the past 30 plus years. They lived in his house for two to three years, or even seven to eight years. Shen said that most of his current retirement pension, 5,000 yuan a month, is used to help the students.

What he did has touched many people's hearts and attracted more people to join him. Last year, a charity group was set up to help more students in need.

Zhao Haihu, a comrade-in-arms of Shen, is now a member of a 30-man volunteer team made of retired soldiers. Zhao is confident that when they put their efforts together, more people will be helped.