By Liu Yang, People's Daily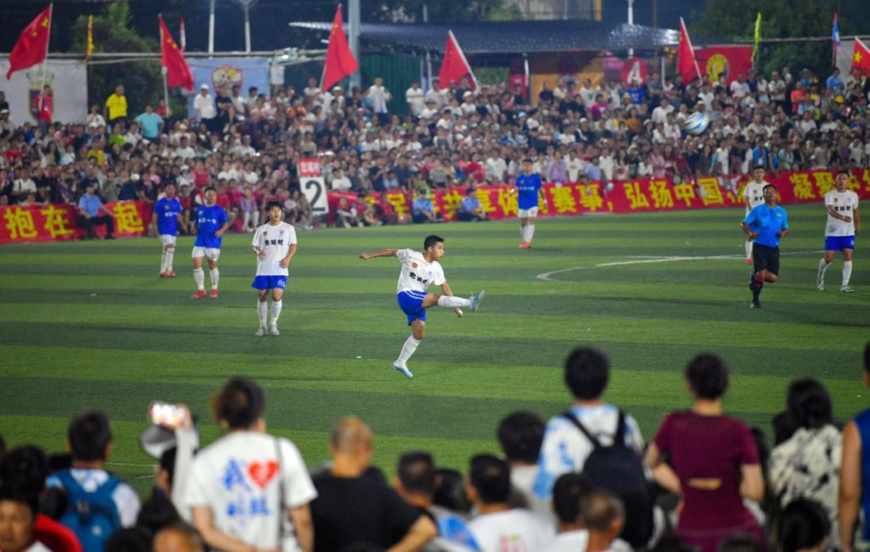 The final of a rural soccer league is held in Rongjiang county, Qiandongnan Miao and Dong autonomous prefecture, southwest China's Guizhou province, July 29, 2023. (Photo by Jia Zhi/People's Daily Online)
"Village Spring Festival galas," "rural basketball league," and "village soccer super league" are all the rage in China. These featured and vibrant rural cultural and sports events, known to the public via livestreaming and short video platforms, have received rave reviews.

They are a miniature of China's remarkable achievements in developing public cultural facilities and activities in rural communities.

Village Spring Festival galas, featuring entertainment shows with local rural characteristics, has become a new Chinese New Year custom loved by rural communities across China. Rural sports activities have gathered millions of sports fans online and offline, setting a big stage for grassroots athletes and cultural performances. Besides, activities showcasing intangible cultural heritage, rural courtesy and customs shows, as well as rural food festivals are also attracting tons of visitors to the countryside.

These magnificent cultural activities do more than simply enriching rural life and lifting people's spirits - they also expand new avenues for rural consumption and promote the transition and upgrading of the rural economic structure.

This huge surge in rural cultural activities didn't just happen overnight. It's the product of local culture progressively building up steam over time.

Many rural cultural activities had already accumulated decades of history before gaining such widespread attention. For example, village Spring Festival gala dates back to 1981 in east China's Zhejiang province, when villagers in Yueshan village, Qingyuan county, Lishui built a stage to perform local operas and lantern dances. It has a history of more than 40 years.

The rural soccer league in Rongjiang county, southwest China's Guizhou province first emerged in the 1990s, and the basketball tournaments in Taipan village, Taijiang county of the province have been held continuously for decades.

What also consolidated the foundation for the thriving cultural development in rural areas are the country's efforts to advance poverty alleviation and rural vitalization.

After gaining wealth, rural residents have an enhanced demand for cultural enrichment, as well as a heightened sense of responsibility to inherit and develop local culture. Be it the village Spring Festival galas where villagers themselves play the lead, or rural sports events hosted with concentrated efforts, none of this would have been possible without the cultural confidence built up through rural prosperity, nor people's eager anticipation to pass on and innovate the rural culture.

Riding the fast train of new media, rural cultural activities are being delivered to more people. According to statistics, as of December 2022, the number of Chinese rural internet users reached 308 million, or 61.9 percent of the total rural population. Last year, village Spring Festival galas hosted in Zhejiang province received a total of over 100 million online views. Short videos showcasing the stunt basketball and soccer moves also contributed to the popularity of rural basketball and soccer leagues.

The booming new media sector has significantly improved the communication of information among different regions. This provides huge support for gathering resources for the rich and colorful rural culture and for stimulating relevant industries. It also helps built an expansive platform for rural cultural activities to break through geographical constraints and reach wider audience.

The novelty of rural culture is a reason for rural cultural activities to have stood out from massive online information. Prizes of rural basketball and soccer leagues are mostly local farm produce, such as chickens and ducks. Aluminum basins and cymbals are always used as "bang sticks" by spectators to cheer. Local performances staged in the intervals of the games, including songs and dances with ethnic features, also make these events unique.

It just breaks people's conventional impressions of farmers and rural lifestyles when farmers turn into athletes and performers dressed in their finest on the stage, and demonstrates the splendor of Chinese farmers and rural culture in the new era.

The booming rural cultural activities effctivelly drives rural economy. In recent years, village Spring Festival galas, rural basketball and soccer events, as well as other cultural activities have become a new focus of the integrated development of the cultural and tourism sectors. They not only led to a growth in the revenues of local B&Bs, hotels and restaurants, but also promoted local tourism resources, intangible cultural heritage items and farm produce.

According to statistics released by Qiandongnan Miao and Dong autonomous prefecture, Guizhou province, the number of tourists received and total tourism revenue of Xijiang Qianhu Miao Village in the autonomous prefecture multiplied when it hosted a village Spring Festival gala this year. Figures from the government of Rongjiang county also indicated a 39.73 percent rise in tourist visits to the county and a 52.08 percent growth in its tourism revenue this May because of a rural soccer league hosted there.

Besides, rural cultural activities also stimulate consumption, providing replicable experiences for the integration and mutual promotion of rural culture and economy.