By Liu Shi'an, Xie Weiqun, Fang Min, People's Daily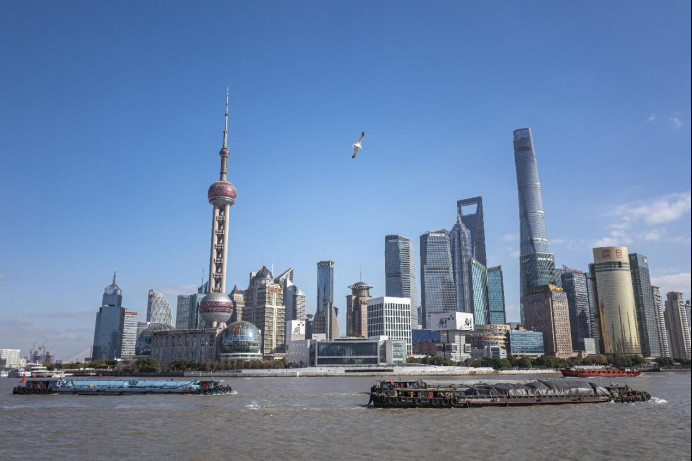 Photo taken on Jan. 10, 2023 shows cargo vessels on the Huangpu River in Shanghai. (Photo by Wang Chu/People's Daily Online)
Shanghai, a pioneer of China's reform and opening up that leads the trend of innovative development, has consistently optimized its business environment.

Recently, the city issued a new version of an action plan, which marked the sixth consecutive year for Shanghai to map out blueprints for building a favorable business environment for a new year.

The new version includes 195 tasks and measures. It has sent a strong signal of Shanghai to build a world-class business environment and better serve market entities.

"We made progress despite the impacts from COVID-19 in the past three years, which is attributed to the sound business environment in Shanghai," said Chen Yuhua, general manager of a dairy product manufacturer in Shanghai, adding that the latest action plan, which came right in time as China moved into a new phase of COVID-19 response, would bring new hopes to businesses.

The action plan focuses on improving the satisfaction of market entities. It strives to build a better environment for the development of enterprises by deepening reforms in key areas, optimizing full-life-cycle services for enterprises, supporting innovation in key regions and enhancing coordination and organizational guarantee.

"The sixth-edition action plan stands out for its consistency," said Chen Guozhong, chief economist of the Shanghai Municipal Development and Reform Commission.

According to Chen, the new action plan inherits the spirit of the first five versions. It not only sets new targets to deepen the reform, but also aims to lift the general business environment in Shanghai.

The emphasis on innovation is another highlight of the action plan. It promotes an identity code system for market entities, pilots an aid mechanism of occupational injury for laborers engaged in new employment forms, and encourages banks to provide seamless loan renewal for more entities.

The new action plan will also align China's pilot programs on improving the business environment with World Bank's new assessment system, so as to enhance institutional innovation for creating a better business environment.

"We'll launch a systematic model to serve enterprises and focus on integrated innovation to further lift the comprehensive competitiveness of our business environment," Chen told People's Daily. He said the new action plan will lay more emphasis on implementing reform measures that can better satisfy market entities.

In early 2018, Shanghai took the lead in China to build an online platform for government services, aiming to make such services as convenient as online shopping.

Luo Liangyong, who runs a catering enterprise in Shanghai, is a beneficiary of the online government service platform.

"The enterprise service center in Pudong district has launched a remote identity verification service, which enabled me to get a business license via video identification without visiting the service center in person," Luo recalled.

As Shanghai constantly rolled out measures to optimize its business environment in the past five years, the online service platform has become a signature of its government services.

Data shows that by the beginning of this year, the platform has offered a total of nearly 3,600 types of services and handled 297 million cases. Around 84 percent of government services have been handled online in the city.

From 2018 to 2022, the early five editions of the action plan on optimizing the business environment implemented over 750 measures. according to an official with Shanghai Municipal Development and Reform Commission.

"All districts and departments in the city have continuously pursued innovation to optimize and upgrade the plan, which made government services more convenient, the market environment opener and more normalized, monitoring fairer and more prudent," the official said, adding that Shanghai is working to foster a world-class business environment governed by a sounder legal framework.

Over the past five years, Shanghai has witnessed over 2.25 million new market entities, an increase of 52.7 percent over the previous five-year period. As of the end of 2022, the number of enterprises per 1,000 people in Shanghai reached 111.1, ranking among the highest in the nation.