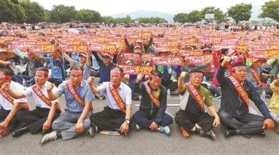 As dissenting voices increased over the decision between Seoul and Washington to deploy Terminal High Altitude Area Defense (THAAD) missile defense system, the South Korean government and media have been making pale explanations and rebuttals.

Some quibbled that "South Korea has no choice but to install the THAAD system as a self-defense measure. It does not target any third country", while some others said that "China was fully accounted for when choosing the site for the THAAD system. The detection range of the missile defense system does not reach into China's territory."

Some made groundless claims that "China should rethink about its obligation fulfillment on the settlement of the Korean Peninsula nuclear issue." Some others even claimed that "China dares not to pressure South Korea as it will push the country closer to the US".

It is not hard to see that South Korea is playing the "victim card", but this scheme did not go all the way. It finally revealed the trump card that "its fearless provocation comes from its strong ally".

Honesty goes a long way. South Korea should be aware of this common sense. Insincere words cannot persuade anyone and will even damage one's own reputation. Careless remarks on security issues that concern core national interests can easily become a laughing stock. As everyone knows, there is nothing as crystal-clear as security issues.

Anyone who has some knowledge about the THAAD system knows that with a radar range of 1,000 to 2,000 kilometers, it is designed to shoot down missiles at a relatively high altitude of 40 to 150 km. Given the geographical conditions of the Korean Peninsula, it is ridiculous to use the THAAD missile defense system to "deter nuclear threats from North Korea".

The US did not start to seek strategic advantage by deploying anti-missile systems yesterday. The superpower also cited nuclear threats posed by Iran as an excuse when it built the missile defense complex in Eastern Europe, but it did not stop its scheme even after an agreement on settlement of the Iranian nuclear issue was reached.

To convince China that the THAAD deployment does not affect its interests, the South Korean government has gone at length into technical details. However, the THAAD system employs the AN/TPY-2 X-band radar, which is the world's largest and the most powerful ground-transportable radar.

Although the US military claims the radar range is only 500 kilometers, given its close correlation with the radar cross-section of the object, the range is above 2000 kilometers for ascending mid-long-range missiles and intercontinental ballistic missiles that have not separated from the shell body.

When deployed in South Korea, the THAAD system can reach deep into the hinterlands of Northeast Asia with its radar. During peacetime, it can acquire intelligence of regional countries and collect data on target signature. In wartime, the system can be used as a preliminary identification and tracking facility and significantly improve the missile interception rate.

This will seriously undermine China's strategic deterrence and pose security threats to China. Even if South Korea truly cares about China's security interests, it does not have the right to operate the THAAD system as it is well-known that South Korea has no military autonomy as a follower of the US.

Linking the THAAD deployment with China's actions regarding the Korean Peninsula nuclear issue is more than far-fetched. South Korea has no rights to damage China's security interests simply because China does not make South Korea "more comfortable".

Has China acted in a shady way on the peninsula issue? Has China failed to earnestly implement a single one of the resolutions adopted by the UN Security Council? Without China's role at key moments, the Korean Peninsula situation would be very different. Does South Korea really want a taste of that?

As for whether China will do nothing after the THAAD deployment, the people who made the above remarks know better than anyone. As a neighbor of China, South Korea should be aware of China's determination to safeguard peace and stability.

Neighbors should straighten out their issues with a peaceful mindset, especially on the root causes. Even with support from its patron, it is quite irresponsible for South Korea to behave emotionally or act recklessly.