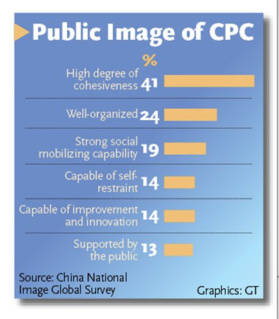 Global Times, People's Daily

China's image is steadily improving as the country ranks second in terms of influence in global affairs, according to the latest survey.

The survey, jointly released by the China Foreign Languages Publishing Administration's Center for International Communication Studies and British marketing company Millward Brown and US firm Lightspeed GMI on Monday, shows China's global image scoring 6.2 out of 10 points, or 0.3 higher than the previous year.

Experts said China's active role in the international community and its pro-developing countries policies contributed to the enhanced image.

The survey involved 9,500 respondents from 19 G20 member states. It says China ranks second in terms of influence in global affairs, just behind the US, and Russia, Britain and Germany ranked third to fifth, respectively. 

Zhou Qing'an, an associate professor at Tsinghua University's School of Journalism and Communication, said on Monday that China has actively engaged in exchanges with the international community and dealt with key issues in recent years, which helped dispel misunderstandings and burnish its image. 

The survey shows that overseas youth aged 18-35 are more impressed with China compared to those aged from 36-65. 

Zhou believes it is partially due to China's recent efforts at utilizing social media, especially Facebook and Twitter, to disseminate information and communicate with overseas Net users.

The survey also shows that developing countries had a better impression (6.9 points) of China than developed countries (5.5 points). 

 "China enjoys a better image in developing countries since some of our policies, including the 'Belt and Road' initiative, have benefitted them," Yu Yunquan, deputy director of the International Publishing Group's International Communication Research Center of China, told the Global Times.

On average, 29 percent of the overseas respondents said they have at least some knowledge about China, which was higher than in 2014. They claim that they mainly learned about the country from local media and Chinese products. 

Yu Guoming, a professor at Beijing Normal University's School of Journalism and Communication, told the Global Times that "Made in China" is no longer synonymous with cheap or low-quality products, and China's innovation potential has changed some Western people's impressions of China.

According to the survey, Lenovo, Huawei, Alibaba, ZTE and Haier are the five most familiar Chinese brands among overseas respondents. Compared with 2014, Xiaomi, WeChat, UC Web and other tech brands have become more popular, while PetroChina's reputation has also significantly improved.

Yu said that Chinese companies doing business overseas should also pay attention to brand development, including participating in local social welfare activities.

Party improving image

The survey likewise says overseas respondents generally think China's Communist Party (CPC) is cohesive and enjoys a rigorous organizational structure.  And 19 percent of respondents from developing countries agree that the CPC is "able to self-restrain and self-purify."

Yu said the international community is impressed by the CPC's organizational skills, and sees CPC's governing ability through its reform measures and policies in China.

"The CPC appears more confident and this has helped to correct misunderstandings, going so far as to make a promotional video," said Yu, adding that the CPC's recent anti-corruption campaign has also enhanced its public image.

A three-minute English-language video, "The CPC is with you all the way," has gained renewed popularity on the Internet two years after President Xi Jinping launched a high-profile anti-corruption campaign.