By Tashi from People's Daily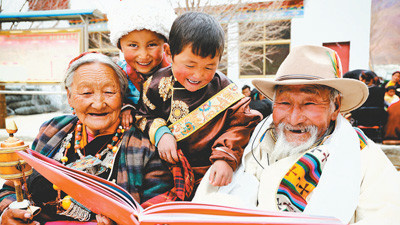 A senior Tibetan tells children about Tibet's latest development, changes and people's new life.
Southwest China's Tibet Autonomous Region has reported double-digit GDP growth for 24 consecutive years, a remarkable achievement. This year, the region is still able to keep the momentum, with the growth rate for the first half of the year reaching 10.8 percent year-on-year.

In the first six months, Tibet's GDP reached 55.54 billion yuan ($8.49 billion). The disposable incomes for urban and rural residents were 15,292 and 3,210 yuan, up 10 and 13.9 percent year-on-year, respectively. `

The industries above the designated scale registered an added VALUE of 3.95 billion yuan, up 14.1 percent, while the total retail sales of consumer goods amounted to 24 billion yuan, up 14.2 percent on a year-on-year basis.

Over the past five years, the autonomous region has consolidated the foundation for development by starting from improving people's livelihood, exploring resources, building industry and encouraging urbanization.

From 2011 to 2016, the total mileage of highways in Tibet grew from 63,100 kilometers to 82,100 kilometers, extending by 30 percent. Now there are 72 airlines flying between Tibet and 41 cities in and out of China.

Over the past five years, with the construction and operation of hydropower facilities, including the Zam Hydropower Station, the Duobu Hydropower Station, the Guoduo Hydropower Station and the Pangduo Hydropower Station, Tibet has transmitted a total of 824 million kilowatt hours of electricity to places outside the region, an increase of 150 percent. For the first time in history, the region's net delivery of electricity exceeded 200 million kilowatt hours.

Since the 18th National Congress of the Communist Party of China, Tibet has set the goal of building itself into an international tourist destination and forging tourism industry into a pillar industry of the region.

Wang Songping, director of the Tibet Tourism Development Commission, said Tibet's exotic culture and stunning landscape lend it a unique charm to draw both domestic and international tourists and make tourism one of the most burgeoning industries in the region.

In 2016, the tourism sector generated over 33 billion yuan in revenue, accounting for nearly 29 percent of Tibet's GDP, Wang said.

More travelers to the region also offer local farmers and herders with business opportunities in tourism industry. In 2016, Tibet received about 23.15 million domestic and foreign tourists, an increase of 14.7 percent year-on-year. Tourism created jobs for 100,000 Tibetan farmers and herdsmen in the year.

Payu Village in Nagqu Prefecture in northern Tibet was formerly known as "the village of beggars". In recent years, by taking part in the village herding cooperatives, the villagers saw their income rise from 800 yuan to 14,000 yuan.

Payu was designated the prefecture's first role model "moderately prosperous" village, being the first village where a villager's income surpassed 10,000 yuan in Nagqu.

Cooperatives have provided an important platform for Tibetan farmers to increase their income. In 2016, Tibet had 6,076 agricultural and herding cooperatives. Husbandry product producers generated a gross output of 3.16 billion yuan and 42 percent of Tibet's husbandry was industrialized.

"To increase the income for people and transform resource advantages into economic strengths, Tibet should highlight its unique feature," said Baima Tashi, an assistant research fellow with the Tibet Academy of Social Sciences.

Based on its rich resources, Tibet has pushed its characteristic industries toward a model featuring "a higher starting point, standardization, and a complete industry chain", in which a batch of leading enterprises will stand out, to both increase the income for farmers and herders and boost Tibet's economy and social development.