By Bai Yang from People's Daily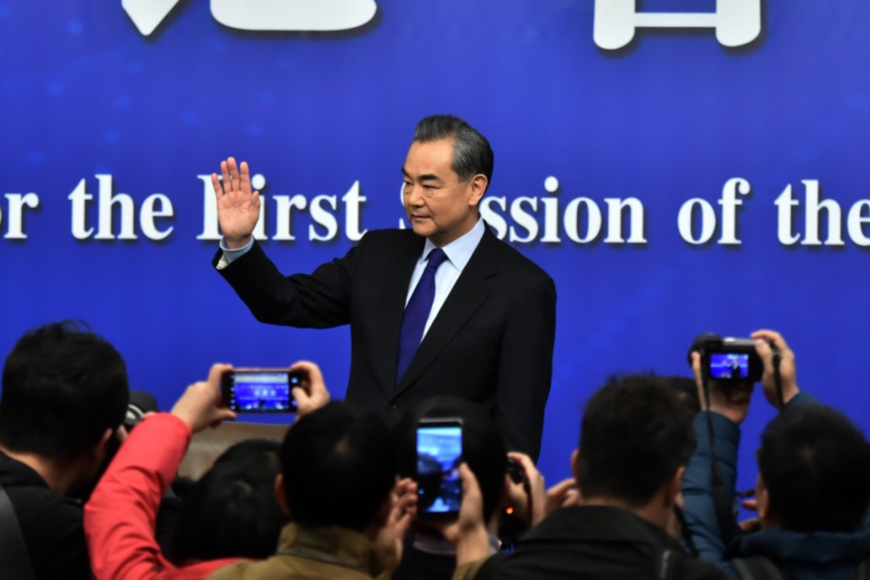 Chinese Foreign Minister Wang Yi meets the press at a press conference of the first session of the 13th National People's Congress, March 8, 2018. (Photo by Weng Qiyu form People's Daily Online)
It's time to lay "China threat theory" to rest, Chinese Foreign Minister Wang Yi told a press conference on China's foreign policies and external relations on 8th March.

"For decades, the West has made all kinds of assessments and predictions about China. To some Westerners, China is either 'collapsing' or 'threatening'," added Wang during the press conference on the sidelines of the first session of the 13th National People's Congress.

As China continues to grow, the first theory has collapsed and become an international laughing stock. Meanwhile, proponents of the second theory have conjured up new versions, which find dwindling support because facts speak louder than words, the minister pointed out.

His remarks came as new versions of "China threat theory" emerged one after another, encompassing the topics ranging from nuclear strength to space program at all kinds of occasions including the Munich Security Conference and the US Congressional hearing.

Some countries even pointed fingers at China and fabricated so-called "China threat", but turned a blind eye to their own soaring military expenditure.

China has reaffirmed on many occasions that the fundamental goal of its development is to seek happiness for the Chinese people and rejuvenation for the Chinese nation, and contribute to world peace and development.

It has also repeated its hope that some countries can abandon the outdated Cold War mentality, and view today's world and China's development in an objective and rational manner.

For years, China has been the leading engine of global growth, Wang illustrated China's contribution, elaborating that at more than 30 percent, China's annual contribution is bigger than that of America, Japan and the Eurozone combined. China accounts for more than 70 percent of poverty reduction worldwide, a miracle in human history.

As the largest source of peacekeeping personnel among the permanent members of the UN Security Council and the second largest contributor to the UN peacekeeping budget, China is bearing a weighty responsibility for maintaining world peace, said the minister.

He added that in the last five years, with its Belt and Road Initiative and other major proposals, China has come to the fore in championing global governance, free trade and an open global economy.

"From these solid facts, those who do not have bias or practice double standards will see in China not a threat, but plenty of opportunities," Wang concluded.