By He Yin, People's Daily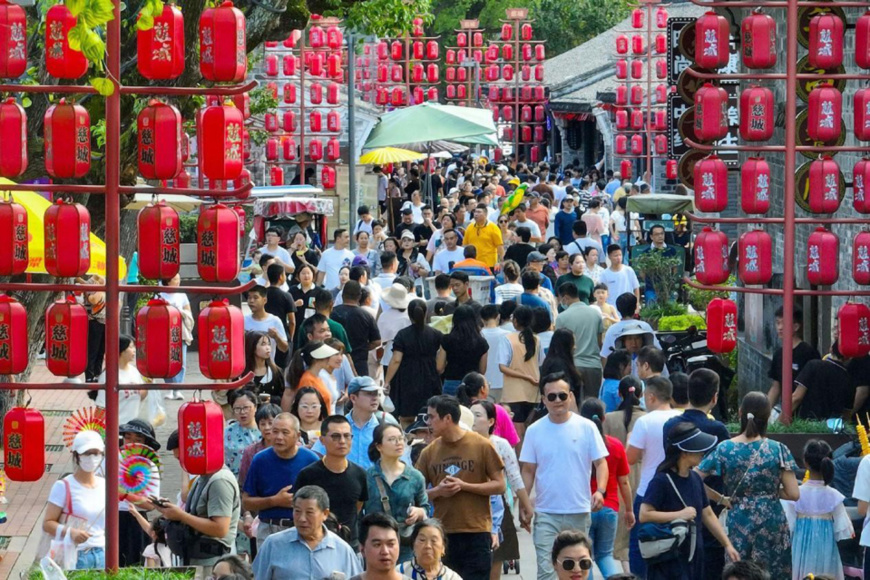 Tourists visit an ancient town in Ningbo, east China's Zhejiang province, Oct. 2. (Photo by Hu Xuejun/People's Daily Online)
This year's Mid-Autumn Festival and National Day holiday saw packed tourist sites, sold-out cinemas and restaurants, and record-high numbers of travelers, showcasing vigorous vitality across China.

This has drawn significant global attention in recent days. It is believed the vibrant holiday activities mirrored the steady upward trajectory of China's economy, and conveyed to the world the country's confidence in and strength of economic development.

Some said the snapped-up air and train tickets as well as the fully booked hotels represented powerful momentum of the world's second largest economy, and some said the surge in domestic consumption and sustained high railway passenger volumes boosted the country's economy.

Facing a complex external environment this year, the Chinese economy has withstood pressure and continued recovery, stabilizing its scale while improving quality. China's economic growth remained among the top of major economies globally.

The latest released data shows that in September, as policy effects continue to accumulate, positive factors in economic performance kept increasing, China's manufacturing Purchasing Managers' Index (PMI), non-manufacturing business activity index and Composite PMI output index stood at 50.2 percent, 51.7 percent, and 52 percent respectively, all staying in the expansionary zone. It indicates an upward turn in economic prosperity.

Citibank recently raised its forecast for China's economic growth this year. Rebeca Grynspan, Secretary-General of the United Nations Conference on Trade and Development (UNCTAD), said China has significant fiscal room to deliver a rebound and support the economy.

The demand of China's massive market is a key advantage for the country's economic growth. During the eight-day Mid-Autumn Festival and National Day holiday, China saw 826 million domestic trips and 753.43 billion yuan ($104.72 billion) in domestic tourism revenue, up 71.3 percent and 129.5 percent year-on-year respectively on a comparable basis, and 4.1 percent and 1.5 percent higher than 2019. This once again demonstrated to the world the resilience and vitality of the Chinese market.

With a population of over 1.4 billion and more than 400 million middle-income earners, China is the world's second largest consumer market, largest online retail market, and an emerging middle-to-high end market, as well as one of the most promising mega markets globally. As policies to restore and expand consumption take effect, China's consumption potential will be further unleashed, playing a bigger role in driving economic growth.

China is steadily expanding opening up, making its market increasingly attractive.

Recently, the country has introduced a series of targeted measures to further optimize the foreign investment environment and attract more investment from overseas.

China's general manufacturing sector is now fully open, and the negative list has removed restrictions on foreign investment in the manufacturing sector in free trade zones.

A survey released by the China Council for the Promotion of International Trade shows nearly 90 percent of foreign companies are satisfied with aspects like acquiring business premises, taxation, market access, cross-border trade, and promoting market competition in China. Over 90 percent are also satisfied with foreign investment policies introduced since the fourth quarter of 2022.

In the first eight months this year, 33,154 new foreign-invested companies were established in China, up 33 percent year-on-year. The active investment by multinational corporations demonstrates their confidence in the Chinese market and economic development.

China firmly supports openness and cooperation, and its steady economic growth presents important opportunities for the world.

From expanding a globally-oriented network of high-standard free trade areas to implementing the Regional Comprehensive Economic Partnership, and from expanding the Belt and Road partnership to working actively to join the Comprehensive and Progressive Agreement for Trans-Pacific Partnership, China has constantly deepened bilateral and multilateral economic partnerships for mutual benefit and common development.

This month, China will host the third Belt and Road Forum for International Cooperation. Representatives from over 130 countries and international organizations have confirmed to attend the event.

"The Belt and Road Initiative is an ambitious economic cooperation project that seeks to revive the ancient Silk Road and promote orderly flow of economic factors, efficient allocation of resources, and market integration regionally and globally," wrote Juan Esteban Musalem, president of the Chilean-Chinese Chamber of Commerce, Industry and Tourism in an article. He said China remains a non-stop economic engine powering global growth and development, just as it has for the past 40 years.

The vibrant Chinese market during the holiday demonstrated the resilience, potential and dynamism of the Chinese economy. By accelerating the construction of an integrated national market, further leveraging its advantages as a super-large economy, stimulating market vitality and social creativity, and expanding high-level opening up, China will continue supporting global economic growth and creating more opportunities for all.