Yang Ou, Sun Guangyong, Lin Rui  From:People's Daily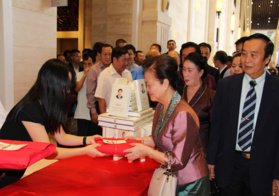 Vientiane, Laos (People's Daily) –  An official book launch ceremony for the Lao edition of "Xi Jinping: The Governance of China" was held in Vientiane, the capital city of Laos, on November 9, 2017. 
Hosted by China's State Council Information Office (SCIO), China International Publishing Group (CIPG) and the Chineseembassy in Laos, the book launch drew more than 150 representatives from both countries, and a crowd of Laotians excited to receive a copy of the book. 
SCIO vice minister Guo Weimin along with Laos officials feel the Lao edition of Xi's book is a profound follow up to the 19th National Congress of the Communist Party of China that concluded in October. The Lao edition comes at the right time as President's Xi is expected to visit the country on November 13.
Guo said the book reflects the early development and key points of President Xi Jinping's "Thoughts on Socialism with Chinese Characteristics for a New Era." As a window into China's highest leader, the book provides Laotians with an opportunity tolearn more about China from a rational, comprehensive and objective viewpoint.
The Lao edition will also enhance mutual trust andunderstanding between the two nations while promoting strategic partnerships, as pointed out by Chinese Ambassador to Laos, Wang Wentian.
"Xi Jinping: The Governance of China" consists of 18 chapters featuring 79 speeches, interviews and 45 photos of the Chinese president from different periods of his life.  It covers a two-year period beginning in 2012 when Xi was elected General Secretary of the Communist Party of China (CPC) Central Committee. 
Since its 2014 release, the book has sold over 6 million copies, has been translated in over two dozen languages, and is now available in roughly 160 countries and regions.