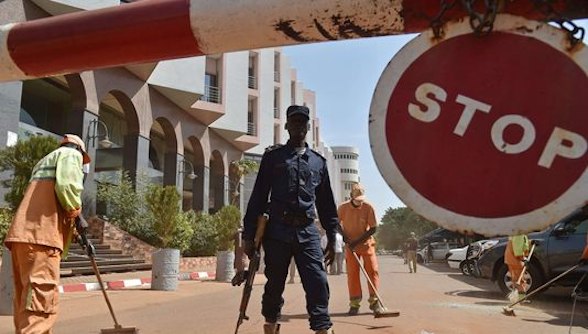 Policier au Mali. Crédit photo : Sources
Shifting militant allegiances pose new threat to region

An upsurge in attacks on hotels and tourist sites in Mali, Burkina Faso and Ivory Coast since late 2015 is indicative of the growing reach of al-Qaeda in the Islamic Maghreb and its affiliates in West Africa. The first of these new wave of attacks was reported in November 2015, when gunmen stormed the Radisson Blu hotel in Mali's capital Bamako. Although militants have long been active in Mali's volatile northeast, the incident was the first time a major attack took place in the capital. This was followed by further shooting raids on a hotel in Ouagadougou, Burkina Faso on 15 January 2016, and the beach resort of Grand Bassam in Ivory Coast on 13 March 2016. In the two latter cases, the incidents represented the first major Islamist attacks in those countries, while the Ivory Coast incident marked the furthest south Sahel-based militants have carried out an attack. More recently, on 21 March 2016, gunmen struck an EU training mission base at the Nord-Sud hotel in Bamako, before being quickly repelled by guards.

Al-Qaeda in the Islamic Maghreb (AQIM) claimed responsibility for each attack alongside multiple other independent groups, raising suspicions that more than one militant network helped facilitate the attacks. The Bamako and Ouagadougou attacks were also claimed by the Sahel-based group al-Mourabitoun, led by Algerian jihadist Mokhtar Belmokhtar, in what the group described as its first "joint act" with AQIM. Belmokhtar has long had a tense relationship with AQIM, but the Bamako attack appears to be a sign of growing coordination between the groups and was followed by al-Mourabitoun declaring a pledge of allegiance to AQIM in December 2015. Since its formation in 2013, al-Mourabitoun has persistently targeted French interests and its closer cooperation with AQIM partly explains the shift in focus to locations and countries with large French populations.

The Massina Liberation Front (MLF) and Ansar Dine also claimed responsibility for the November 2015 attack in Bamako in what could support claims made by Malian authorities that AQIM was aided by local accomplices in the attack. The MLF is based in south-central Mali near the border with Burkina Faso, while Ansar Dine maintains a faction based in southern Mali that claimed responsibility for attacks on the southern towns of Misseni and Fakola in June and July 2015 near the border with Ivory Coast. The MLF draws many of its recruits from the Fulani ethnic-linguistic group that spans much of the Sahel and West Africa and which AQIM has been reportedly attempting to recruit from in a bid to tap into widespread grievances of marginalisation. Fulani fighters were allegedly used in the attacks in Ouagadougou and the utilisation of these independent militant networks likely provided AQIM with the logistical and reconnaissance capability to expand its operations further south. Since the attacks, Malian security forces have also arrested several high-profile Ansar Dine figures responsible for facilitating cross-border operations. These include the southern faction's leader, Souleymane Keita, in March 2016, and in May 2016 his deputy and the faction's logistics chief, Yacouba Toure, who is alleged to have been channelling weapons into Burkina Faso.

The growing cooperation between the Islamist militant groups in the Sahel and their desire to conduct more "spectacular" attacks in West Africa is also likely driven by growing regional rivalry with Islamic State (IS). The emergence of IS in Libya and its increasing influence among jihadist networks in the Sahel have intensified regional competition between IS and AQIM, prompting the latter to seek closer cooperation with other autonomous militant groups and expand the countries in which it operates. In carrying out attacks in new geographies that result in mass fatalities of foreign – particularly Western – nationals, AQIM and its affiliates are likely hoping to both mimic and compete with the international attention drawn from recent IS attacks in Paris and Brussels.

The spread of terrorism in West Africa

The shift in AQIM's regional strategy represents a growing threat to the wider West African region, including countries that have hitherto had limited experience of Islamic extremism. In recent months, governments in Ghana, Senegal and Togo have all increased security measures in response to reports of expanding jihadist networks, including Islamic State, in their countries. Although none of these countries has any precedent for Islamist militant attacks, the expansion of fundraising and recruitment activities and their large expatriate populations make them potential targets:

Senegal

Senegal's role in the UN Multidimensional Integrated Stabilisation Mission in Mali (MINUSMA) has long made it a potential target for jihadist attacks. In January 2016, French intelligence services revealed that they had warned both Senegal and Ivory Coast of the possibility of an attack, based on intercepted communications between militants. Senegal has traditionally enjoyed relatively peaceful Christian-Muslim relations compared to many countries in the region, but in recent years there have been reports of young Senegalese men travelling overseas to join IS. These reports coincide with the spread of the hardline Salafist forms of Islam that IS and AQIM subscribe to, which many fear may be promoting extremist ideas among the population.

Despite efforts by the government to expand its counter-terrorism capability – for instance, Senegal participated in the US's annual Operation Flintlock exercises in February 2016 – training standards remain a concern, while the country's porous borders with Mauritania and Mali make it vulnerable to infiltration. The concentration of international hotels in the Corniche area of Dakar offers an obvious target for future attacks, while beach resorts south of the capital could present softer, less secured targets, as in the case of Grand Bassam.

Ghana

There are growing concerns within the government that Ghana could be targeted in an attack. A leaked official memo in April 2016 cited intelligence from the National Security Council Secretariat warning both Ghana and Togo of the "real" threat of a terrorist attack and calling on immigration authorities to profile people from Mali, Niger and Libya. Like Senegal, Ghana has relatively peaceful Muslim-Christian relations, though the predominantly Muslim north is the least developed area of the country, giving rise to complaints of marginalisation. In January 2016, the government warned of a number of cases in which Ghanaians had been recruited by IS, indicating the spread of extremist ideologies in Ghana and raising the prospect of these individuals returning to the country to carry out attacks.

Togo

There is no record of a jihadist presence in Togo, although a previously unknown group called Ansar al-Nour in February threatened to launch attacks against Muslim leaders and the Togolese government. There is scant evidence that Ansar al-Nour represents a serious threat and little has been heard of the group since its initial declaration. Nonetheless, the announcement comes at a time of growing Islamist militant activity in the wider region and reports in neighbouring Ghana of a direct threat to Togo. The development of the group and the spread of jihadist ideas in Togo will, however, be an indicator of the evolving threat in the country.

Outlook

The hotel industry in West African capitals will remain a prime target for future attacks, due to its association with Western interests and the high number of foreign nationals who typically congregate in international hotels. This will place pressure on international hotels to invest in boosting security, resulting in increased checks of vehicles and guests. Armed police have already been deployed around major hotels in Senegal, Mali, Ghana and Ivory Coast, while a state of emergency imposed in Mali since late 2015 has been repeatedly renewed. False alarms and mass security deployments around sensitive dates, such as national and religious holidays, will become more common, resulting in road closures and diversions.

Increased intelligence and training support from foreign governments, particularly from France and the EU, will partially mitigate the threat. Recent arrests of high-profile militants in Mali indicate improving counter-terrorism capability, which is highly likely to benefit from greater intelligence-sharing with foreign powers. Nonetheless, porous borders and poor security standards in many West African cities mean that the potential for future attacks remains. AQIM's ongoing efforts to exploit grievances among Fulani groups and marginalised Muslim communities across West Africa will be a key determinant of its ability to broaden its campaign and reports of recruitment should be monitored closely.

As jihadist groups face growing difficulties in attacking large international hotels, they may seek to expand their targets to include other civilian locations that have weaker security measures in place, such as remote tourist destinations, markets and bus stations. In the case of Ivory Coast, security had been significantly increased in Abidjan following the attacks on Ouagadougou and Bamako, leading to speculation that the militants had chosen Grand Bassam due to the weaker security provisions and underscoring their ability to adapt to changing conditions. More indiscriminate attacks on bus stations, bars and markets are less common among Mali-based groups than IS or Nigeria's Boko Haram, but could become more frequent as militant groups adapt to improving counter-terrorism capabilities around expatriate hubs.