By Li Zhongwen, Yang Kai, Han Weizheng, People's Daily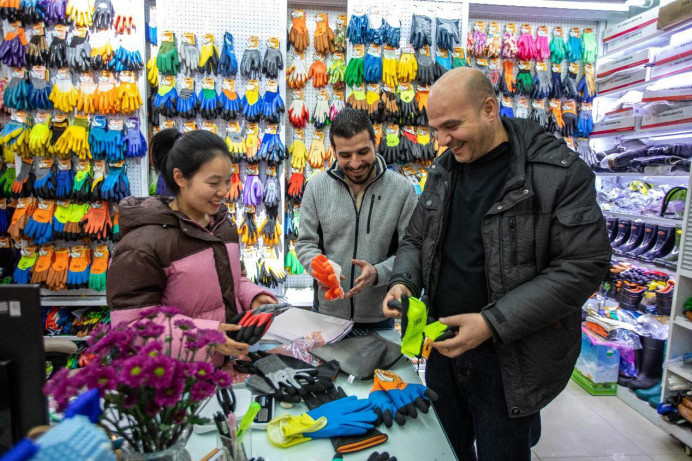 Foreigners buy commodities in a shop at the Yiwu International Trade Market, east China's Zhejiang province. (Photo by Yang Meiqing/People's Daily Online)
The Yiwu International Trade Market, the world's largest wholesale market of small commodities located in Yiwu, east China's Zhejiang province, is constantly crowded. Vehicles enter and exit the market 88,600 times each day on average, or once every second.

"Since the first quarter of this year, the market has been receiving about 200,000 visits per day on average, including 2,000 made by foreign merchants, which is equivalent to the pre-pandemic level," said Huang Haiyang, deputy general manager of Zhejiang China Commodities City Group, the company that manages the market.

The thriving business at the Yiwu International Trade Market, dubbed "the world's supermarket," comes from the sound business environment, the high-level opening up, and the application of digital technologies.

How long does it take to establish a company in Yiwu?

In the Yiwu municipal administrative service center, a woman named Yang Xiaomin finished business registration at a self-service counter in just less than 20 minutes, and was told that the license would be delivered to her later for free. She said the service was convenient and caring.

A Jordanian merchant nicknamed Mude has been doing business in Yiwu for 21 years. He's quite satisfied with the business environment in the city.

"Yiwu is a fantastic city for business. Your problems can be well settled here," the man told People's Daily.

It was echoed by an Indian businessman by the name of Loki, who said that government departments of the city have established a number of chat groups on social media WeChat, so as to ensure that merchants can be reached soon once they encounter difficulties.

This year, the freight trains via the Yixin'ou (Yiwu-Xinjiang-Europe) route, a symbol of the city's opening up, have made a total of over 700 trips, carrying nearly 60,000 twenty-foot equivalent units.

Facing sluggish foreign demand, Yiwu has firmly encouraged its enterprises to explore more possibilities overseas. Since November last year, Yiwu has sent seven business delegations comprising a total of more than 320 enterprises to Germany, the UK, the United States, Japan and other foreign markets, where they inked deals totaling over 100 million yuan ($13.98 million).

In the first four months of this year, Yiwu's exports increased 13 percent year-on-year to 147.64 billion yuan, said Yang Yanxiang from Yiwu's customs.

Digital technologies also contribute to the prosperity of "the world's supermarket."

"Over 30 percent of our new clients are from online channels," said Fu Miaoling, who runs a woodwork company in Yiwu. Her company is laying more and more emphasis on Chinagoods, the official online platform of the Yiwu International Trade Market, which has brought it more business than before.

"Through the intelligent transformation of workshops, the production efficiency of our company has jumped 55 percent, while the production cost has been lowered by 28 percent, which significantly strengthens our competitiveness in the market," said deputy director Zeng Jian'gen of the IT center of Huading Nylon, a manufacturer of premium nylon materials headquartered in Yiwu.

Zhu Rongfang, general manager of a supply chain management company in Yiwu, told People's Daily that the company helps Chinese suppliers make targeted sales strategies based on analyzing consumer preferences in the overseas market.

"Such information services can lift domestic suppliers' profit by 10 percent," Zhu said.

In Yiwu, all government departments, enterprises and individuals are working for progress and innovation.

High-quality development calls for efficient reform mechanisms, which require quick fixes to assist enterprises with their problems. Yiwu authorities have paid regular visits to enterprises and provided each with a servant. Difficulties can be solved with a phone call.

Many foreign traders are doing business in Yiwu. To solve foreign-related commercial disputes, the city has creatively set up a specialized mediation committee, which invites credible experts that speak foreign languages and excel in foreign trade to help solve disputes related to foreigners.

So far, the committee has handled 1,170 disputes that involve transactions totaling 128 million yuan, with the rate of dispute resolution reaching 96 percent.

Yiwu merchants have fully developed themselves in fierce market competition. Ten years ago, they had to visit other countries to learn the design of hats, but today, about 90 percent of hats in foreign countries are manufactured in Yiwu. "Yiwu is already at the forefront of fashion," said Chen Xinping, who runs a hat company in Yiwu.

Relying on Yiwu's advantages in commodity supply and logistics, the city has established a complete industrial chain of livestream commerce, attracting many entrepreneurs to pursue their dreams.

Today, Yiwu is actively embracing new business forms. It has set up the first livestream commerce college of Zhejiang province and encourages various types of enterprises to build livestream commerce bases.

In the first four months, 195,000 livestream shows were hosted in Yiwu with total retail sales of 13.91 billion yuan, up 24.93 percent year on year. The city's e-commerce transactions in the same period went up 10.74 percent from a year ago to over 130.3 billion yuan.