By People's Daily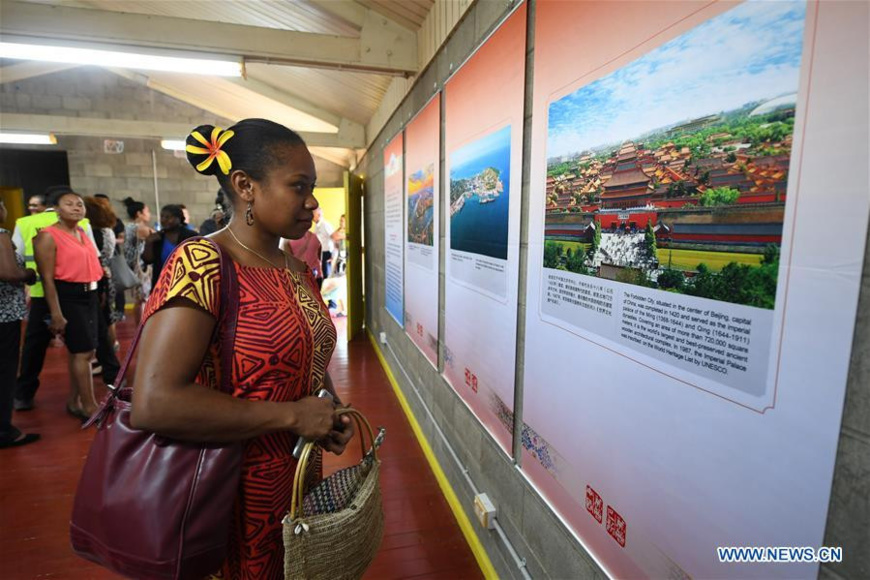 A photo exhibition features 100 pictures on China and Papua New Guinea's landscapes, cultures and society, in Port Moresby, Papua New Guinea, November 12, 2018.
Chinese President Xi Jinping's upcoming state visit to Papua New Guinea is of great significance to China's relations with the country, its ties with Pacific island countries as well as unity and cooperation among the developing countries, a senior official told a press briefing hosted by China's Foreign Ministry on Tuesday.

During Xi's state visit to Papua New Guinea from Nov. 15 to 16, he will meet with leaders from eight Pacific island countries which have established diplomatic ties with Chinain its capital city of Port Moresby, according to Vice Foreign Minister Zheng Zeguang.

The countries include Papua New Guinea, Fiji, Samoa, Vanuatu, the Federated States of Micronesia, the Cook Islands, Tonga and Niue.

It will be the first time for a Chinese President to visit Papua New Guinea, and also Xi's another meeting with leaders of the Pacific island countries after four years, Zheng added.

The trip is expected to deepen China's friendly cooperation with Papua New Guinea, Zheng said, explaining that Xi will, together with leaders of Papua New Guinea, exchange in-depth views on bilateral ties and international and regional issues of common interest, and also witness the signing of multiple cooperation agreements.

The visit will elevate China's relationship with Pacific island countries, the vice minister said, adding that Xi's upcoming meetings with leaders of these countries will be held bilaterally and collectively.

Xi will deliver a keynote speech to expound on China's policies toward the Pacific island countries based on the approach of upholding justice and pursuing shared interests and the principles of sincerity, real results, affinity and good faith. He will also announce major cooperation measures to support the island countries' development, and draw the development blueprint for bilateral ties in the new era, Zheng stressed.

The unity and cooperation among developing countries will be cemented by the visit as well, according to the vice minister.

Noting that the Pacific island countries are all developing countries, Zheng said Xi's visit will consolidate the friendship and cooperation between China and developing countries and inject strong impetus into the building of a community with a shared future for mankind.