By Peng Min, Zhu Sixiong from People's Daily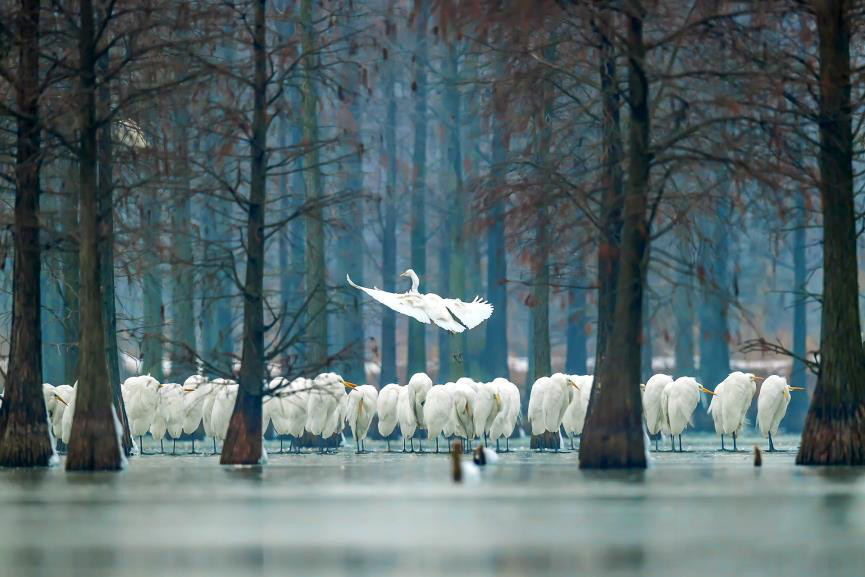 Nearly 1,000 egrets play among the pond cypresses in winter's lake. (Photo by Han Junjie from People's Daily)
A piece of wetland located in eastern China's Anhui province has now grown into a paradise for birds after efforts of four decades, adding evidence to the country's stride toward a beautiful China with better ecological environment.

It takes one hour's drive from Lai'an County in Chuzhou, Anhui province, to reach the wetland in Chishanhu, literally translated as Pond Cypress Lake, what is now a national pilot wetland park since the end of last year.

Covering an area of 5,600 mu (3.7 million square meters), the wetland boasts the largest size of pond cypresses in southeastern China.

It's also hailed as a "bird paradise" with over 100,000 birds inhabited here or migrated over, according to Ling Hongbao, director of Lai'an forestry bureau.

The large tract of pond cypresses were planted in the lake in 1970s to slow water down, and finally stretched up to a forest of over 1,000 mu (about 666 thousand square meters). The cypresses not only stop water and soil from going away, but also attract various kinds of birds.

A total of 98 kinds of birds inhabit in the reserve, where a complete eco-system has formed with rich resources of plants, fishes and amphibians, said Cheng Yongzheng, official of Leiguan Town at Lai'an County.

Wild cormorants constitute the largest number of birds in the wetland, and other inhabitants or regular visitors include wild ducks, night herons and cattle egrets, according to Cheng.

The wetland park, following the rule of comprehensive protection, scientific restoration, proper exploration and sustainable development in construction, divides the whole area into five function zones for ecological conservation, restoration and reconstruction, rational utilization, education, management and service.

The block for rational utilization will be developed into a destination of ecotourism and related experience activities, and demonstrate how to raise and plant in wetland in an ecological way.

"We hope to build the wetland park into a science education base, providing children with an access to nature and ecological knowledge, and make the beautiful scenery known through photographers," said general manager Zhang Jianguo of the wetland park.

It will not only boost the popularity of the lake, but also give an impetus to local development, Zhang added.