Source: People's Daily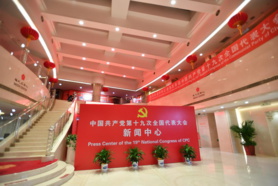 The 19th National Congress of the Communist Party of China will open at 9:00 a.m. Wednesday at the Great Hall of the People in Beijing, and conclude on Oct. 24, a spokesperson said Tuesday.

Tuo Zhen, spokesperson for the 19th National Congress of CPC, held a press conference on Tuesday afternoon at the Great Hall of the People, briefing the media on the upcoming congress.

The credentials of 2,280 delegates to the 19th National Congress have been approved, he said.

He introduced that the agenda includes: to hear and examine a report submitted by the 18th CPC Central Committee; to examine a work report of the 18th Central Commission for Discipline Inspection; to deliberate and adopt an amendment to the Party's Constitution; to elect the Party's 19th Central Committee and Central Commission for Discipline Inspection.

The constitution amendment will include new governance concepts, thoughts and strategies proposed by the CPC Central Committee with Xi Jinping at its core, he added.

Tuo stressed that China's policy of utilizing foreign investment will not change, China's protection for the lawful rights and interests of the foreign companies will not change, China's commitment to provide better services for the investment and operation from all companies will remain unchanged.

"China's reform and opening up is now at a new starting point," he said, noticing that China will continue to stick to the basic policy of opening up, and open even wider to the outside world.