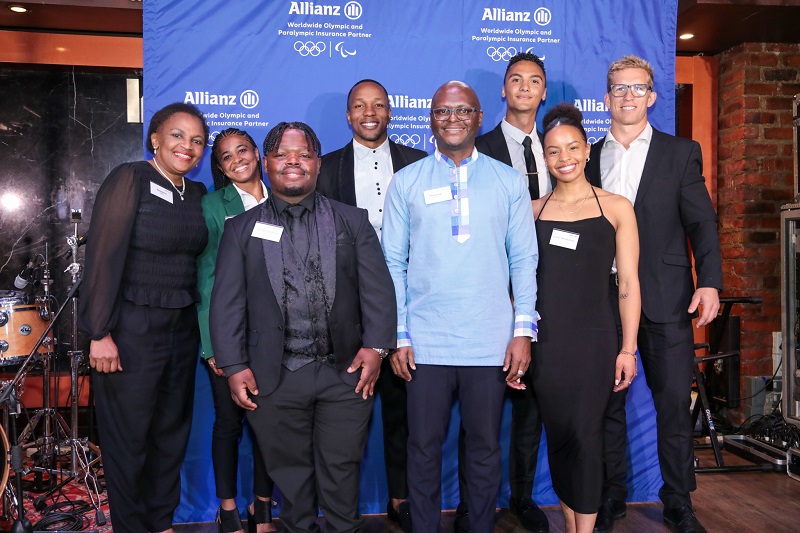 This year's Allianz Cocktail embraced the theme of the Olympic and Paralympic Movements Partnership. Allianz takes immense pride in being the 'Worldwide Insurance Partner' of the Olympic & Paralympic Movements. The partnership, which officially commenced in 2021, builds upon Allianz's collaboration with the Paralympic Movement since 2006.

"As the Worldwide Insurance Partner, Allianz remains committed to supporting the hopes, challenges, and needs of the athlete community through a range of insurance solutions and services, mentoring programs, career opportunities, and health initiatives. By championing the sports ecosystem and upholding shared core values of excellence, friendship, inclusion, and respect, Allianz is excited to contribute to the ambitions of athletes worldwide," says Allianz Commercial South Africa CEO, Thusang Mahlangu.

After inspiring Olympic and Paralympic Games in Tokyo 2020 and Beijing 2022, Allianz continues to stand behind the Games in Paris 2024, Milano Cortina 2026, and LA2028. In South Africa, Allianz Commercial proudly partners with Team South Africa and is activating its TOP partnership with the South African Sports Confederation, Olympic and Paralympic Committee (SASCOC), the National Olympic Committee, and National Paralympic Committee for South Africa. The TOP Programme constitutes the highest-level marketing programme of the Olympic and Paralympic Movements.

Photo for Allianz Cocktail release 2023 medium.jpg

At the Allianz Cocktail, esteemed athletes from various disciplines graced the occasion. Among them were Geronay Whitebooi, multiple judoka medallist; Akani Simbine, South African 100 meters record holder, Lythe Pillay, World Athletics U20 Championships 400m gold medallist, former captain of the South African Sevens Rugby team and Olympics medallist, Kyle Brown, Donald Ramphadi, the first black South African French Open winner and Caitlin Rooskrantz, artistic gymnast pictured with SASCOC CEO, Nozipho Jafta (far left) and Allianz Commercial South Africa CEO, Thusang Mahlangu (center). 

Allianz Commercial proudly supports a community of over 150 athletes from around the world, not only in their sporting endeavors but also in preparing them for their careers beyond sports. The dedication and preparation of these athletes serve as an inspiration for Allianz to embrace all that life has to offer.

"We are proud to be part of Movements that celebrate the pursuit of excellence, the possibility of opportunities, and a vision for a better world. Through this partnership, Allianz reinforces its position as an inclusive brand that cares about society, while leading the way in empowering and uniting people across the globe," adds Thusang.