By Wu Yan, Zhou Hanbo, Zhao Cheng and Xie Yahong from People's Daily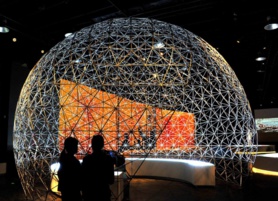 Astana, the capital of Kazakhstan, has been well prepared for the Expo 2017 which will start on June 10, under the theme of "Future Energy."

It is the first time for a Central Asian country to host the event, which will attract a total of 115 countries and 22 international organizations to participate in the expo and the number of visitors is expected to reach 5 million.

Staffs, volunteers and reporters from all over the world can be seen in the expo's news center. Besides, there are about 150 interpreters to offer various language services for visitors, the Astana Convention Bureau told the People's Daily.

Anastasia Noziya, a volunteer, said Astana has become more beautiful because of the expo. "It makes me excited and proud seeing so many foreign friends coming to my city for the expo. I hope that inspired by the expo's theme of 'Future Energy', my city will become better and better."

The theme of "Future Energy" stems from the reality, said Adilet, a college student and volunteer. "Energy has demonstrated its importance in driving world development, therefore looking for new energies is a must. The theme chosen for the expo by Kazakhstan, a resource-rich country, showcases the priorities it gives to the future of the earth," the student added.

Shaposhnikova Tatyana, a retired nurse, said that the pavilion she wants to visit most is the China pavilion. Tatyana said she liked to watch the Russian channel of China Central Television.

"My children showed me lots of photos they took during their visit to the 2010 Shanghai World Expo, which left deep impressions on me. Now I'm going to visit the China pavilion on my own like I'm in China. I believe the pavilion will bring me a lot of surprises," she noted.

China is the first country to confirm to attend the expo, and the China pavilion is the first to start trial operation. Those efforts have been praised by the host country.

Kazakh President Nursultan Nazarbayev paid two visits to the China pavilion during his tours to the expo site.

Editor-in-Chief of the online version of the Yegemen Serik, who has been to China for many times, said his dream is to travel along the Silk Road by train. That dream will soon be fulfilled in the China pavilion, which has set up a stimulated high-speed train driving platform that allow spectators to drive from Xi'an in Northwest China to Astana, watching the spectacular sceneries along the route.

The pavilion has been praised as a role model by the organizing committee of the expo, said Yang Hong, deputy director of the China pavilion.