By Wang Haonan, Zhang Shuaizhen, Yang Yanfan, People's Daily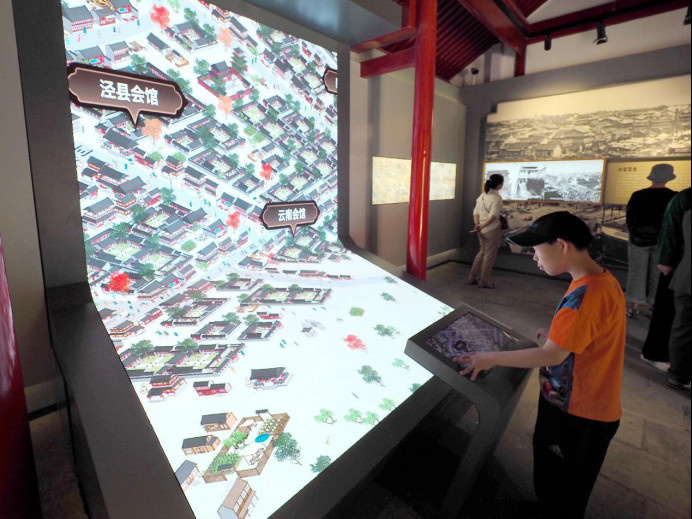 A visitor uses a digital device at the Beijing Xuannan Cultural Museum. (Photo by Du Jianpo/People's Daily Online)
Beijing, the capital of China, is witnessing expanding scenarios and business forms of the cultural industry.

It has enriched residents' spiritual life and empowered the city's development.

For instance, Jixiang Theater, a time-honored Peking Opera theater in Beijing, has taken on a new look after renovation. It is serving coffee named after famous opera stories, offering visitors an experience that blends the East and the West.

The 798 Art Zone, which is built upon a complex of 50-year-old factory buildings, houses a thriving artistic community and presents various master art shows to visitors.

There's even a virtual show presenting the Beijing Central Axis, the backbone of old Beijing stretching 7.8 kilometers from south to north, where people can immerse themselves in the magnificence and evolution of the Chinese capital.

Culture is the soul of a city. The preservation and inheritance of the city's soul can be found in every corner of the capital.

The Zhengyici Peking Opera Theater is a two-storey wood structure now located in Beijing's Xicheng district. With a history of over 300 years, it is hailed as a "living fossil of Chinese theater."

The ancient theater has gone through several ups and downs. It was once used as a warehouse in wartime, and also served as a coal shop, a school building and a hotel. Though it was restored afterward, it barely attracted theater-goer.

"After we took it over in 2019, we carried out a comprehensive restoration in accordance with its original historical appearance," said Sun Minglei from the Northern Kunqu Opera Theater.

The Zhengyici Peking Opera Theater became popular after reopening. In April this year, it launched a month-long performance series to mark the anniversary of its reopening.
"For four of the ten performances, the ticket price could be as high as 1,280 yuan ($178.13). Tickets were always in high demand," Sun told People's Daily.

Besides, various activities have been held at the Zhengyici Peking Opera Theater, including lectures by famous artists, the filming of an 8K documentary and exhibitions of intangible cultural heritages.

According to general manager Zhang Peng, the theater is currently planning to host featured activities about the Kunqu Opera.

"With the ancient theater and creative ideas, we'll build new scenarios of cultural consumption," Zhang said.

Beijing has become the first super-large city in China that has achieved growth with reduced input. Many old industrial parks in the city have chosen to transform themselves into creative cultural parks.

The 798 Art Zone in Beijing's Chaoyang district is one of the first to benefit from the transformation.

The former factory complex is currently home to more than 400 enterprises engaged in art, creative designing and cultural technology, said Yang Jinwei, who's in charge of the art zone.

According to Yang, the art hotspot has been visited by more than 100 heads of state and political dignitaries. Besides, it hosts nearly 4,000 art activities and receives 10 million visits each year. About 30 percent of its visitors are from overseas.

The 798 Art Zone, by connecting the production and consumption of the cultural sector, has fostered a new business model that integrates sightseeing, art appreciation, entertainment and shopping.

Yang told People's Daily that a massive renovation project was launched last year at the art hotspot, which aimed at maintaining its original appearance and creating more space for cultural creation. The pedestrian areas in the art zone were expanded to nearly 100,000 square meters.

"An oracle bone script-themed cultural festival is being hosted, which not only presents traditional Chinese culture to visitors, but also vitalizes the night economy in surrounding communities," Yang said, adding that nighttime foot traffic at the art zone has surged 65.38 percent during the cultural festival.

It is reported that over 70 percent of the cultural parks above the municipal level in Beijing were transformed from old factory buildings, including the Shougang Park, the Langyuan Station Cultural Center and a cultural park at the Longfusi Temple. These facilities both meet people's new demands for a better life and contribute to the city's urban renewal.

Thanks to the wide application of digital technologies in the cultural industry, which drives profound reforms of the supply and consumption sides, a batch of new business forms are emerging in the industry.

As China's cultural center and an international hub for sci-tech innovation, Beijing enjoys unique advantages in promoting the integrated development of culture and technology. Artificial intelligence, 5G, big data and other frontier technologies are accelerating the upgrading of Beijing's cultural industry.

According to statistics, the total revenue of Beijing's cultural enterprises above the designated size reached 766.53 billion yuan between January and May this year, up 15.3 percent year-on-year.