By Sheng Yulei from People's Daily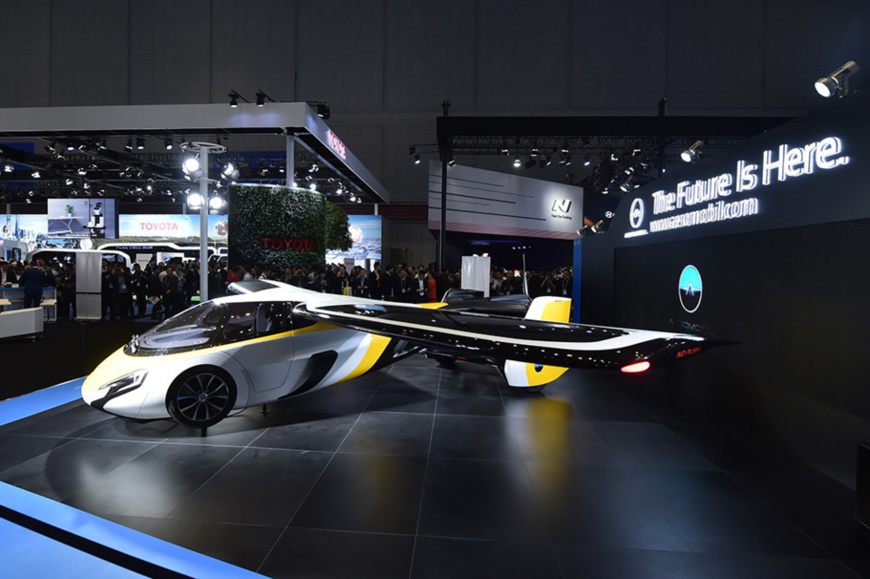 Visitors wow at a flying car produced by AeroMobil from Slovakia at the exhibition area of automobiles during the CIIE. Photo by Weng Qiyu from People's Daily Online
At the first China International Import Expo (CIIE), a manager of a Chinese restaurant, visiting a number of exhibition areas with a thick pile of documents in hand, said he was about to sign orders of more than $100 million.

The exhibitor of popular South Korean food left a note on its booth saying "My products are very popular today and I hope visitors will continue to support me tomorrow."

These moments at the CIIE are truly impressive.

The busy expo reflects China's deepening opening-up and the potential for cooperation among various parties. The "magnetic" effect generated at the CIIE indicates that opening up conforms to the irreversible trend of history, and moves with the time.

It needs about 20 countries in the world to assemble a vehicle, and it calls for collaboration of over 1,500 major companies and 15,000 small-sized and medium-sized enterprises to produce a passenger aircraft. No country is willing to be left behind in economic globalization and no enterprise will reject a developing opportunity.

For foreign enterprises, participating in the CIIE is not a makeshift, but a natural move to explore the Chinese market and seek development opportunities. For China, the initiative to expand imports is not a choice of expediency, but a future-oriented step taken to embrace the world and promote common development.

China's annual import value rose a yearly average of 18.1 percent from 18.7 billion yuan ($ 2.7 billion) in 1978 to 12.5 trillion yuan in 2017 during the 40 years of reform and opening up.

Opening up has become a distinct identification of modern China. Since the 18th National Congress of the Communist Party of China (CPC), China has expanded construction of pilot free trade zones (FTZs), trimmed the negative list for foreign investment access, and continuously enlarged import volume.

Just like Chinese President Xi Jinping has stressed, China has grown by embracing the world, and the world has also benefited from China's opening-up.

The CIIE, the first import-themed national expo has demonstrated China's consistent stance on opening up, and injected positive power into global win-win cooperation, against the backdrop of soaring protectionism and unilateralism.

The United Nations International Trade Center (ITC) Director Arancha Gonzalez expressed that the CIIE would pragmatically promote international trade and multilateral cooperation, and the ITC supported the event.

The last day of the CIIE marks China's Double 11 shopping spree. An Australian expert disclosed that during the last Double 11 shopping festival, the combined transaction volume on Chinese e-commerce Alibaba's online marketplace Tmall and Taobao surpassed the year's total economic output of Tasmania, Australia.

The online shopping festival of Chinese consumers is expanding its influence to the globe. Similarly, the annual CIIE will follow suit and also be extended from a 6-day exhibition to a regular yearly platform.

By further elevating the level of opening up and deepening cooperation, we can build a bridge to the future and make a better world.