By Huan Xiang from People's Daily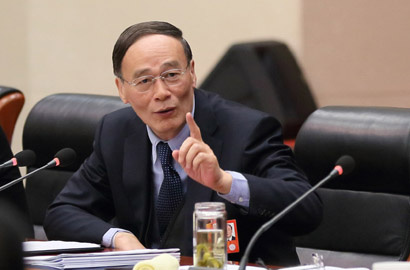 "Under the leadership of the Communist Party of China (CPC), there is only division of work responsibility between the CPC and government, not a division between the two. We must stay firm in this and consolidate the confidence in the path, theory, system and culture of socialism with Chinese characteristics," said Wang Qishan, chief of CPC discipline watchdog stressed recently.

Wang, member of the Standing Committee of the Political Bureau of the CPC Central Committee, made the remarks at a deliberation under the 5th session of the 12th National People's Congress (NPC) on Mar. 5.

Through the long course of Chinese history, the word "government" always carries a general sense with great responsibility, Wang pointed out.

CPC organs, NPC agencies, administrative departments, organizations under the Chinese People's Political Consultative Conference, the court and the procuratorate are all "governments" for the general public, elaborated Wang, also Secretary of the CPC Central Commission for Discipline Inspection.

Wang also drafted the framework of reform on the supervision system. According to the chief, CPC members should follow party regulations, which should be stricter than the law, yet separate from the law.

The comprehensive governance of the CPC should be achieved through strict and impartial regulations, he stressed.

In addition, state governance and administration should be implemented in accordance with the constitution and other laws, Wang stressed the importance of law-based governance.

He added that the CPC should strengthen the supervision on itself, but also on the state apparatus. Each and every government official should be overseen by the CPC to enhance the self-inspection of the CPC and the country.

China is devoted to building a socialism cause with its own characteristics and in line with its actual conditions. Unlike the "limited government" in western political philosophy, the word "government" covers more than state administrative departments in China, especially in the public.

When meeting with former US Secretary of State Henry Kissinger at the end of 2016, Wang also mentioned that to improve state supervision was to conduct supervision on the government in the broad sense, which includes party organs and various governmental institutions.

Commenting on the widely concerned topic of relationship between the CPC and government, an social media account of People's Daily Overseas Edition pointed out in an article that the division of work between the CPC and government and the emphasis on the leadership of the CPC of Wang share the same root with the proposal of former CPC leader Deng Xiaoping, that China should stick to the leadership of the CPC and the CPC should excel in leading.