By Liu Lingling from People's Daily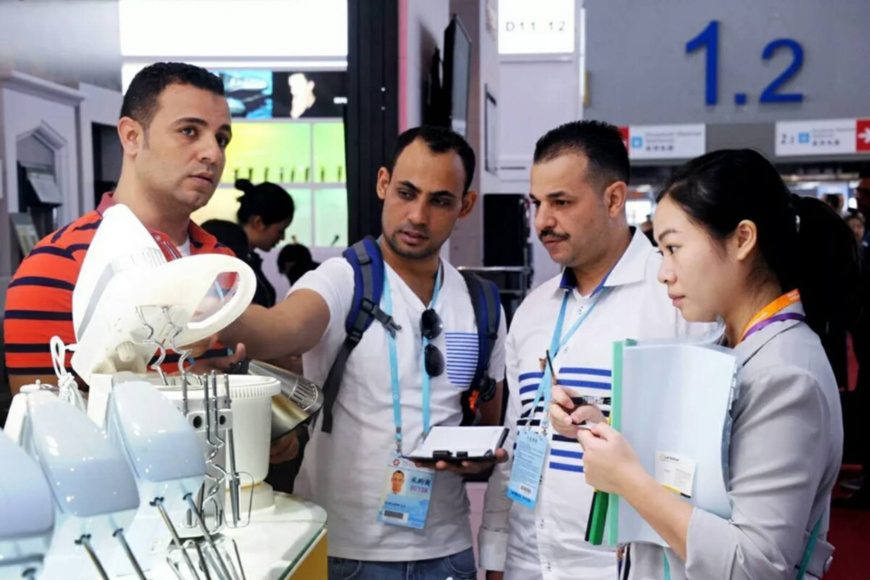 Buyers and exhibitors talk about a product during the 122nd China Import and Export Fair. (Photo from the official website of the Canton Fair)
The 122nd China Import and Export Fair, commonly known as the Canton Fair, opened in south China's Guangzhou city on October 15. As an important window that China opens to the world, it now transforms into a platform of innovation.

The Canton Fair is the largest and oldest gathering of international trade in China that boasts the widest variety of products and the largest number of exhibitors. The fair, held every spring and autumn, is seen as a barometer of the country's foreign trade.

The fair has drawn around 25,000 Chinese companies to display more than 160,000 types of products, as well as 620 enterprises from 33 countries and regions across the world.

A total of 341 companies from 17 countries and regions along the Belt and Road route have been attracted to the fair, making up the majority of the import exhibition zone.

The fair is also a demonstration of the achievements resulting from the supply-side structural reform, as the exhibits covered a host of products made by leading Chinese enterprises with intellectual property, self-owned brands and core technologies. The product upgrade rate of some enterprises reaches as high as 80 percent.

A lot of companies have released their newest high-end products and innovation progress. For instance, air conditioners produced by Guangdong Chigo Air Conditioning Co Ltd can control home temperature based on the number of people and the environment inside.

Haier Group displays its new washing machines that can automatically identify texture of clothes and choose suitable cleaning mode accordingly. Haier's newly released air conditioner, which can purify air and control temperature, has aroused the interest of many visitors.

Such homemade products have become increasingly appealing to foreign buyers. According to statistics, the total amount of intended turnover in the first two days of the fair has already surpassed the previous sessions.

The fair will continue its "Fair Plus Internet" style to promote the integration of online and offline services. The website of the fair has a search engine that covers data of all exhibition zones and exhibitors, enabling buyers to make customized plans ahead of the fair and improve efficiency.

The website also dedicates a channel to showcase Chinese brand enterprises. By October 13, information of 23,155 products from 1,737 enterprises has been uploaded. The introduction of mobile apps has also optimized its service.