By Zhang Zhiwen, Zhang Mengxu, Shen Xiaoxiao, People's Daily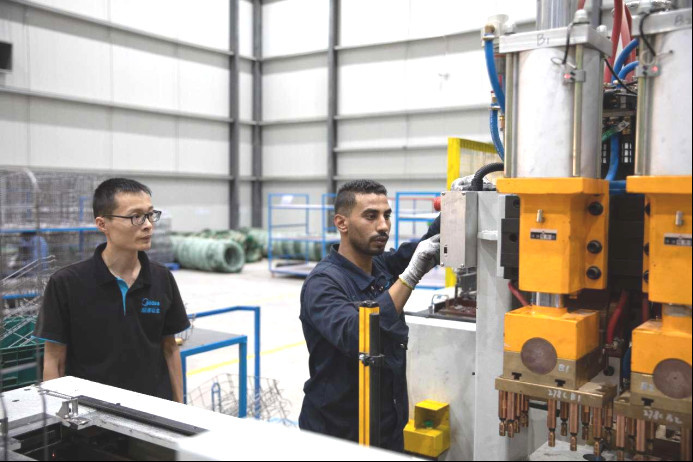 A Chinese technician instructs an Egyptian employee in a dishwasher factory of Midea (Egypt) Kitchen & Water Heater Appliances Co., Ltd. (Photo by Zhang Zhiwen/People's Daily)
The China-Egypt TEDA Suez Economic and Trade Cooperation Zone(SETC-Zone), which sits on the shores of the Red Sea and south of the Suez Canal, and just celebrated its 15th anniversary, has developed into a thriving hub for trade and investment with well-built infrastructure, abundant industrial clusters, advanced logistics and warehousing facilities, and comprehensive amenities.

The cooperation zone, while accelerating strategic upgrading, has become a key platform of investment and cooperation for Chinese and Egyptian companies.

After two phases of construction, the SETC-Zone has grown into an industrial park featuring the best comprehensive environment, the highest density of investment, the highest per-unit output that attracts the most Chinese enterprises in Egypt.

It is now home to more than 140 companies, with actual investment exceeding $1.6 billion, total sales volume of over $3.7 billion and taxations of more than $200 million. The cooperation zone offers nearly 6,000 direct jobs and about 50,000 employment opportunities in related industries.

Egyptian President Abdel-Fattah al-Sisi called the cooperation zone the most successful project of the Suez Canal Corridor.

"I've made many visits to the SETC-Zone and each time I had new discoveries. The SETC-Zone is getting better and better, with more and more enterprises settling in," said Abdul-Majeed Saqr, governor of Egypt's Suez governorate, adding that the complete supporting facilities and favorable investment policies in the SETC-Zone are hugely attractive. He noted TEDA, the developer of the SETC-Zone, is a reliable partner of Egypt.

Chinese enterprise Jushi, which specializes in the manufacture and sales of fiberglass and its finished articles, has been investing in Egypt since 2012. Its subsidiary company in Egypt named Jushi Egypt Fiberglass Co., Ltd.(Jushi Egypt). It has a gigantic factory in the SETC-Zone, which has over 2,000 workers, as well as some 30 Chinese management personnel and technicians. Most of the jobs in production and management are taken by local Egyptians.

No one would imagine that the bustling factory was still a desert 10 years ago. Wu Ping, general manager of the company, said that Jushi encountered a series of challenges when it first entered Egypt, such as short power supply and water scarcity. However, it rose to these challenges and launched mutually beneficial cooperation with relevant parties in Egypt. In the past decade, Jushi Egypt built four production lines of fiberglass and assisting facilities. The factory, after four phases of construction, boasts an annual capacity of 340,000 tons, and is the largest production base of fiberglass in the African continent.

Jushi Egypt also actively fulfills its social responsibility, working to improve local environment and contributing to community development. It provides assistance for local orphanages and impoverished residents, and donates teaching and living materials to local schools.

Egyptian Prime Minister Mostafa Madbouly said that as China Jushi expands its investment in Egypt, it has created a large number of job opportunities and driven the development of Egypt's manufacturing industry.

Nurturing talents that align with industrial and societal needs is one of the key objectives of Egypt's industrial modernization.

Lining the wide roads of the SETC-Zone stand rows of gleaming new workshops, which constitute a dishwasher factory of Midea (Egypt) Kitchen & Water Heater Appliances Co., Ltd. In the factory, local workers are always seen assemble parts along the production line, test equipment, and learn new techniques under the guidance of Chinese technicians.

Chinese companies investing in Egypt are not only creating quality products for local residents, but also helping equip the local workforce for Egypt's industrial modernization.

General manager Chen Weiwei of Midea (Egypt) Kitchen & Water Heater Appliances Co., Ltd. said that the dishwasher rack production line introduced by Midea has filled a technological gap in Egypt's dishwasher manufacturing sector. It has not only cultivated a batch of local welders, but also driven the localization of a series of key technologies, reducing the cost and price of dishwashers, and making dishwashers more affordable and accessible for Egyptian consumers.

Kamel, a team leader of the factory, was among the first batch of employees to join the company in December 2022. He received on-the-job training and learned the whole process of dishwasher manufacturing under the guidance of Chinese employees.

After three months of systematic training, Kamel turned into a skillful worker and was recently promoted to a team leader. Batches of new employees have acquired work skills under the instruction of key technicians.

"I'm glad that I can work here. I will keep working hard to create a better life with my own hands," said Kamel.

Chen noted that the current production capacity of this dishwasher assembly line can meet the market demand in the Middle East, and new assembly lines will be set up in the future to produce more dishwashers.

"We will further promote localization in research and development, manufacturing, and employees, and focus on the local market to provide a wider range of home appliances for users in the region," Chen added.