By Wang Hao, Qi Zhiming, Ge Mengchao, People's Daily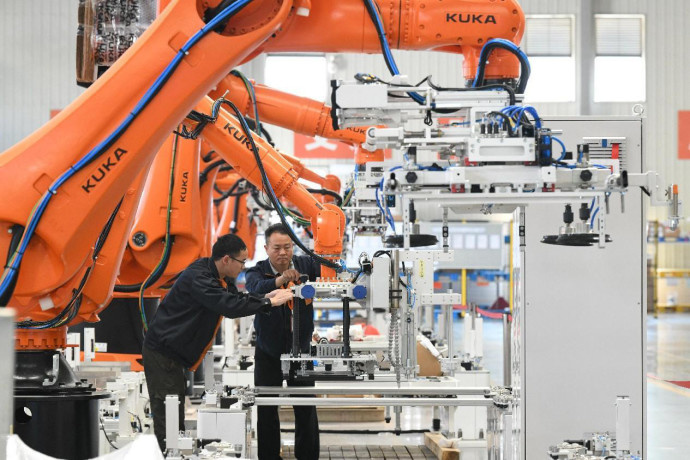 Workers debug robotic arms in a workshop of an intelligent equipment enterprise in Ningde, east China's Fujian province, March 8, 2023. (Photo by Wang Wangwang/People's Daily)
Over the recent years, China has thoroughly implemented an innovation-driven development strategy to promote the optimization and upgrading of its industrial structure. Accelerating the modernization of the industrial system remained one of the key focuses of the government work report this year.

China boasts the most complete industrial system in the world, and the demand in its domestic market has the greatest potential globally. Accelerating the industrial structure upgrading and building a modern industrial system that's independent, controllable, safe, reliable and highly competitive is key to future development.

Traditional industries are the foundation of the modern industrial system. At present, China is vigorously promoting the upgrading of traditional industries.

Traditional industries are moving towards higher-end, exploring new development paths.

Wang Lanyu, general manager of HBIS Group, a Chinese steelmaker, told People's Daily that the company has been making ceaseless efforts to deepen supply-side structural reform, develop high-end products, and strive for a higher stage of well-adjusted balance where demand drives supply and supply, in turn, creates demand.

"We are exploring the new arena of intelligent connected new energy vehicles (NEVs) and have launched high-end smart electric vehicles to better meet the demand of the market," said Zhang Xinghai, vice chairman of the All-China Federation of Industry and Commerce and chairman of Seres, a Chinese electric vehicle manufacturer.

China has fastened its steps on a new path to industrialization as the industrial structure is optimizing and the quality of products keeps improving. High-tech manufacturing and equipment manufacturing accounted for 15.5 percent and 31.8 percent of the total value added of industrial enterprises above designated size, respectively. China has maintained the world's largest producer and seller of NEVs for eight consecutive years.

Traditional industries are becoming intelligent and more competitive.

Only by grasping the opportunities of digital upgrading can enterprises stand out in fierce market competition, said Zhang Zhuang, mayor of Liuzhou, south China's Guangxi Zhuang autonomous region. He noted that Liuzhou supports enterprises in digital transformation and is actively building national-level pioneering zones for connected vehicles and intelligent manufacturing.

"Digital technologies enable precision workshops to respond to every abnormal situation and reduce the processing period of core parts by 20 percent, which further lowers cost and improves efficiency," said Ma Bing, an employee of Gentertec Qiqihar No.2 Machine Tool, a manufacturing enterprise for heavy-duty machine tools.

So far, China has built over 2,100 high-level digital workshops and smart factories, and industrial internet has been applied to 45 major categories of the national economy.

Ma suggested that enterprises should keep enhancing their capabilities in the application of digital technologies and software, as well as data management, saying efforts shall be made to guide enterprises to accelerate digital transformation in key links.

Traditional industries are also turning "green" and brimming with new vitality.

Aiming to build a waste-free county, Guangze county in east China's Fujian province has managed to mix organic matters such as chicken manure and rice husks and turn them into fuel.

"We should promote clean production and circular economy, so as to achieve green and low-carbon development," said Zhang Yuzhen, president of the Fujian Provincial Academy of Environmental Sciences.

Thanks to synergistic efforts to cut carbon emissions, reduce pollution, expand green development, and pursue economic growth, the country is seeing accelerated development of green and low-carbon production and lifestyles. The share of clean energy in total energy consumption increased from 20.8 percent to over 25 percent over the past five years.
While consolidating the dominant place of traditional advantageous industries, China is also fostering new growth drivers and new strengths.

According to the report to the 20th National Congress of the Communist Party of China, the country will promote the integrated and clustered development of strategic emerging industries and cultivate new growth engines such as next-generation information technology, artificial intelligence, biotechnology, new energy, new materials, high-end equipment, and green industry.

The innovation-driven development strategy cultivates emerging industries. Liao Zengtai, head of Wanhua Chemical Group, told People's Daily that leading enterprises should cooperate with universities and research institutes to contribute to the development of emerging industries with strategic importance.

"We have made breakthroughs in the optimization of storage technology, which makes the operation of mobile phones smoother," said Feng Dan, dean of the School of Computer Science and Technology, Huazhong University of Science and Technology in Wuhan, central China's Hubei province. Industries, universities and research institutes should work together and turn frontier technologies into productivity, she added.

"Future industries are an opportunity that we should seize in the next round of scientific and technological revolution and industrial transformation. Efforts should be made to develop core technologies in key sectors such as artificial intelligence and big data," said Dong Jin, head of the Beijing Academy of Blockchain and Edge Computing.