By Liu Junguo from People's Daily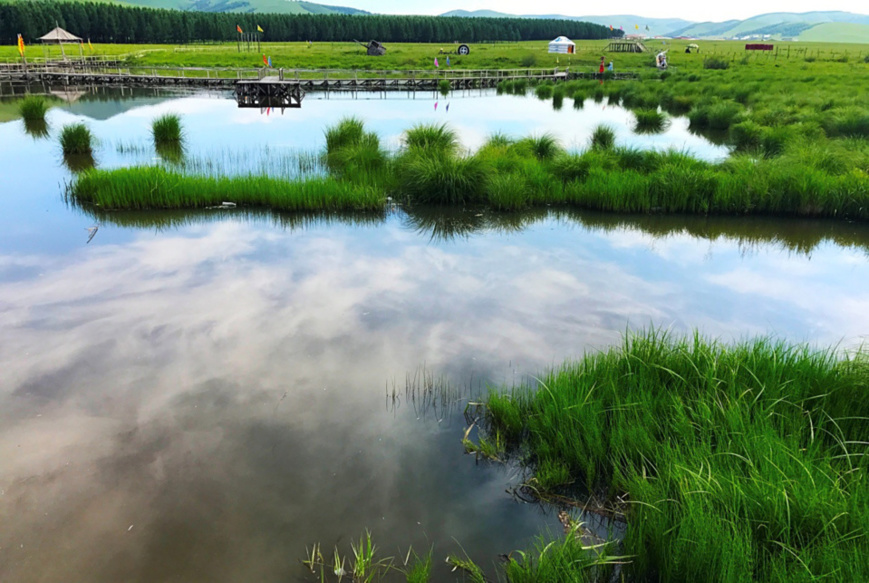 Through years of hard working, Saihanba in the city of Chengde, north China's Hebei Province, which was a barren wasteland only half a century ago, is now a vast woodland. It can serve as a "forest wall" for Beijing and Tianjin and provide a good example for building an ecological civilization. (Photo by Shi Ziqiang from People's Daily)
One important announcement from China's President Xi Jinping in his report to the 19th National Congress of the Communist Party of China (CPC), which concluded in Beijing on Tuesday, concerned the setting up of four new institutions, or agencies.
These are intended to move law-based governance ahead, and to better manage natural resources and ecosystems, ensure the rights of veterans, and improve the nation's supervisory system.

The following is a list of the four and their specific missions:

I. Central leading group for advancing law-based governance in all areas
In the sixth part of his report, Xi said that China will improve its institutions that allow people to run the country and develop socialist democracy.
With the emphasis on advancing law-based governance in all fields as a revolution in Chinese governance, Xi said that China has to promote ruling by law and ensure strict law enforcement, impartial justice and observance of the law by everyone.
"There will be a central leading group for advancing law-based governance in all areas for unified leadership in the initiative to rule by law in China." he announced.
The president also asked every Party organization and Party member to be leaders in respecting, studying, observing, and applying the law.
"No organization or individual has the power to overrule the Constitution or the law, and no one in a position of power is allowed to override the law with his own orders in any way, or to place his authority above the law, violate the law for personal gain, or abuse the law," Xi emphasized.

II. Regulatory agencies to manage state-owned natural resources and monitor ecosystems
China will speed up reforms for "developing an ecological civilization" and "build a beautiful China", Xi announced in the ninth part of his report.
The country will strengthen its planning, organization, and leadership overall for building an ecological civilization, he said, adding that agencies will be established to manage state-owned natural resources, monitor natural ecosystems and improve the environmental management systems.
"These agencies will, together, perform the duties of the owner of public natural resource assets, the duties of regulating all territorial space and protecting and restoring ecosystems, and the monitoring of the discharge of pollutants in urban and rural areas and carrying out administrative law enforcement," the president elaborated.
Xi added that the country will establish ways to set up regulations for developing and protecting national territories, improve supporting policies for development-priority-zones and develop a nature reserve system mainly consisted of national parks.
"We will take tough steps to halt and punish every activity that damages the environment," the president said.

III. Veterans administration
China is committed to building a strong military force and fully modernizing the national defenses, Xi said in the 10th part of his report, noting, "We need to ensure that our country is prosperous and at the same time, our military is strong."
China will strengthen and unify its leadership, top-level design, reforms and innovation, the president explained, adding that China will speed up the reform of science, technology and industry related to defense, promote civil-military inosculation, and set up an integrated national strategic system.
Xi also asked the country to improve its national defense mobilization and build strong, well-structured, modern border, coastal, and air defenses.
China will establish a veterans' administration to guarantee the rights and interests of military personnel and their families, Xi announced, concluding, "We will make military service an occupation that wins public respect."

IV.National, provincial, city, and county supervisory commissions
In the 13th section of the report, Xi said there will be strict governance over the Party and improvements in the Party's ability to govern and lead.
"China will increase national supervision system reforms, run trials across the country, and establish supervisory commissions at the national, provincial, city, and county level, working together with the Party's disciplinary inspection commissions," Xi pointed out, noting that, "This will ensure that the supervision covers everyone in the public sector who exercises public power."
There will be a national supervision law, said Xi, explaining that supervisory commissions will have their responsibilities, powers and means of investigation in accordance with the law.
The practice of shuanggui, or intraparty discipline where a Party member under investigation cooperates with questioning at a designated place and a designated time, will be replaced by detention, the report said.